Alex McGuire:  Oil Price Forecast 2015:The WTI crude oil price is coming off one of the most volatile months since the Great Recession.
WTI crude oil prices gained 3.5% in August. But the U.S. benchmark saw a 20% drop during the first three weeks followed by a 29% surge during the last week. On Aug. 31, WTI oil pricesskyrocketed 7.5% to settle at $49.20 a barrel. That marked the highest settlement since July 21.
It also capped off the largest three-day rally since Iraq's invasion of Kuwait in 1990.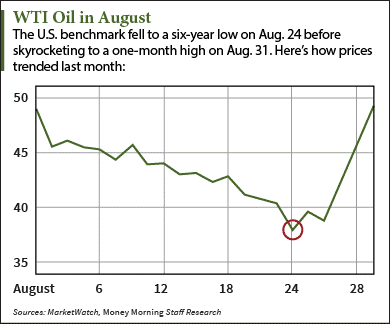 Today (Sept. 1), WTI futures for October delivery are down 5.8% and trading at $46.34. Brent crude oil prices have fallen 5.9% to $52.49 a barrel.
It's no surprise that the oil prices have trended downward in 2015. All of the news concerning weakened Chinese demand, bearish supply reports, and OPEC's unflinching production has sent oil down 20.3% since January.
But the good news is this crash is near a bottom. That's because a number of factors will push oil prices higher by the end of the year. Here's our oil price forecast for 2015…
Oil Price Forecast 2015: M&A Will Strengthen the Market
One of the biggest factors will be mergers and acquisitions (M&A). According to Money Morning Global Energy Strategist Dr. Kent Moors, the low price environment is ushering in a wave of M&A activity that will strengthen the sector and drive prices higher.
We've already seen it with the Shell-BG Group and Schlumberger-Cameron deals…
On April 8, Royal Dutch Shell Plc. (NYSE ADR: RDS.A) acquired BG Group Plc. (OTCMKTS ADR: BRGYY) for $70 billion. The deal is the largest energy merger in more than a decade and will create the world's largest producer of liquefied natural gas (LNG).