This post It's Time to Go Nuclear if You Want Double-Digit Gains appeared first on Daily Reckoning.
Nuclear stocks have been radioactive – nobody wants to go near them.
Does Fukushima ring a bell? There's your answer.
The tsunami that struck Japan four years ago disabled the Fukushima nuclear plant, causing a massive meltdown. It also caused another kind of meltdown – a massive overreaction about the future of nuclear power.
Germany drafted plans to phase out nuclear power completely over the next decade. Italian voters voted to scrap a key nuclear project. And the International Atomic Energy Agency quickly chopped its estimate of nuclear power generation by 2035 in half, according to The Economist.
But now these fears are fading. That's good for nuclear energy. But it could also be good for you, kiddo. That's because you're looking at double-digit gains over the next few weeks if you go nuclear today.
Japan is restarting some idle reactors this year for the first time since the disaster, MarketWatch reports. China has 26 nuclear plants in operation right now—with 23 more under construction. They need it because China's air is so friggin' polluted you can barely breathe the stuff. The government knows it has to solve this problem—and alternative energies like nuclear are the obvious choices.
Growing markets like India are also embracing nuclear as their need for electrical power expands. So nuclear power is ready to flourish once again after being left on the radioactive scrap heap in 2011.
"China and India believe that the upside from the clean energy from nuclear far outweighs the downside risks of sticking to dirty coal," Jeb Handwerger, president of Mining Development Corp., tells MarketWatch.
I don't' have to tell you that uranium is the main ingredient in generating nuclear power. And it's been dirt cheap for year. But that's changing now…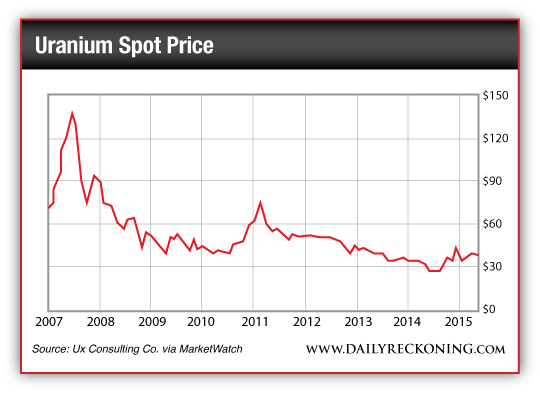 As you can tell from the chart uranium prices were plummeting long before the Fukushima disaster of 2011 (although the meltdown did cut short an attempt at a comeback rally). But uranium is showing signs of life lately. The spot price of uranium has crept steadily higher since last summer.
Here's your chance to grab onto this nuclear-powered trend just as it starts to power up. Plenty of nuclear and uranium related plays are enjoying a strong week— and I think even better days are ahead. This comeback could net you double-digit gains in a matter of weeks as the world begins to catch on that nuclear energy is alive and well.
Go nuclear today – or I'll go ballistic.
Regards,
Greg Guenthner
for The Daily Reckoning
It's time to go nuclear, my friend. If you want to cash in on the biggest profits this market has to offer, sign up for my Rude Awakening e-letter, for FREE, right here. Stop missing out. Click here now to sign up for FREE.
The post It's Time to Go Nuclear if You Want Double-Digit Gains appeared first on Daily Reckoning.