This post Is the Cheap Oil Trade Dead? Think Again… appeared first on Daily Reckoning.
Oil just jumped north of $58— its high for the year!
So is it time for you to pull the plug on the cheap oil trade? No way Jose. It's just getting started…
And now you have another chance at double-digit gains trading the cheap oil theme. And don't worry, if crude gains a few bucks from here it won't sink this ship.
Look, we ain't gonna see $100 oil anytime soon. That's great news for businesses guzzling a lot of fuel. Operating costs are way down, which means higher profits. And higher stock prices. And yes, you can still find plenty of great opportunities to book profits as companies save money on fuel…
In February I highlighted the scorching performance of the Dow Jones Transportation Average. "It's up a muscular 18% since the October bottom," I wrote. "Compare that to the Industrials, which are up less than 12%."
Airlines, freights, truckers and trains all went bananas, rocketing 20% higher in just six weeks…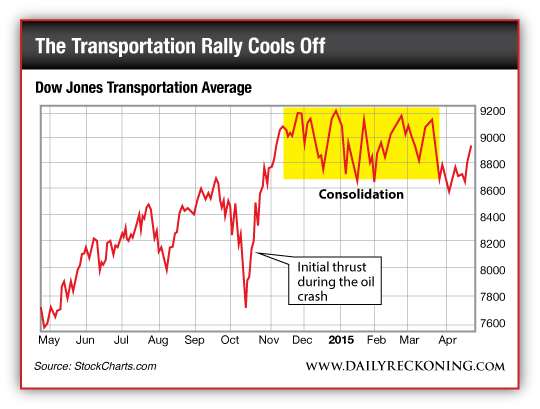 It was a ridiculous rally. But it needed time to cool off. Airline stocks lost altitude after spikes in December and January. Railroads got derailed along the way because many make money transporting oil, which fell off dramatically.
As Ritholtz Wealth Management's Michael Batnick explains, "I think it's quite possible that the Transports pulled forward some returns, the old 'too far too fast.'"
Exactly. Transports got ahead of themselves. Too far too fast.
That naturally made traders nervous. After all, transports sagged as the Dow Industrials were getting their act together earlier this year. But while everyone was looking elsewhere for trading opportunities the transports were setting up again. Just look at the extreme right side of the chart.
After going nowhere for the better part of the first quarter transports are on the move again.
You already were able to nail the perfect transportation trade this past winter: trucking.
Trucking stocks were King of the Transports. And your bet on powerhouse JB Hunt Transport Services Inc. (NASDAQ:JBHT) is rolling right now. As of yesterday, you're up almost 8% on this trade.
And now the railroads are getting in on the action. These stocks couldn't get out of the station this winter. But now they're getting ready to roll…
Regards,
Greg Guenthner
for The Daily Reckoning
P.S. If you want to cash in on the biggest profits this market has to offer, sign up for my Rude Awakening e-letter, for FREE, right here. Stop missing out. Click here now to sign up for FREE.
The post Is the Cheap Oil Trade Dead? Think Again… appeared first on Daily Reckoning.