Previous Guests
Click here to listen to previous episodes.
About Chen Lin
Author "What is Chen Buying? What is Chen Selling?" Chen grew $5,400 to $2.3 million in 10 years. Learn More
Is Market Breadth Waving Bearish Flags?
From Chris Ciovacco: All things being equal, during a healthy rally, we prefer to see a high number of stocks participate in the move (strong market breadth).
In recent weeks, you may have come across something similar to the MarketWatch headline below: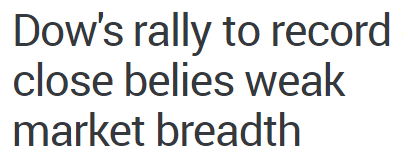 Market breadth can be tracked in numerous ways. One of the most logical is to compare the health of narrow indexes, such as the Dow which contains only 30 stocks, to broader indexes, such as the NYSE Composite, which contains over 1,900 stocks.
Breadth Before 10% Plunge In Stocks
As described in this week's video in detail, the S&P 500 experienced a waterfall decline of over 10% following the close on August 18, 2015. Notice in the chart below how vulnerable the trends were in the broad NYSE Composite Stock Index before the S&P 500's big drop.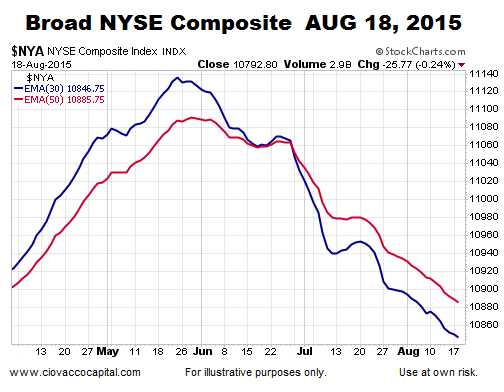 How Does The Same Chart Look Today?
The answer to the question above is "much better". Instead of the moving averages making a series of lower highs and lower lows, the 2017 version of the same chart looks much healthier (see below). Recent gains have been much more broad-based than what transpired in the spring and summer of 2015.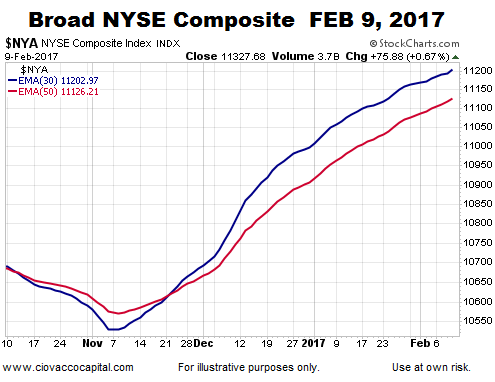 Similarities And Differences: 2015 vs. 2017
This week's stock market video covers some potentially troubling similarities in the area of sentiment between August 2015 and February 2017. The video answers the question…how concerning is this piece of evidence?
After you click play, use the button in the lower-right corner of the video player to view in full-screen mode. Hit Esc to exit full-screen mode.


Additional Measure Of Market Breadth
The 200-day moving average provides a guidepost for long-term trends. All things being equal, we prefer to see a stock or ETF above their 200-day moving average. Just prior to the 10% plunge in August 2015, only 41% of the 1,900 stocks in the NYSE Composite were above their 200-day moving average. Contrast the weak state of long-term trends in 2015 to the present day (1st chart vs. 2nd chart below).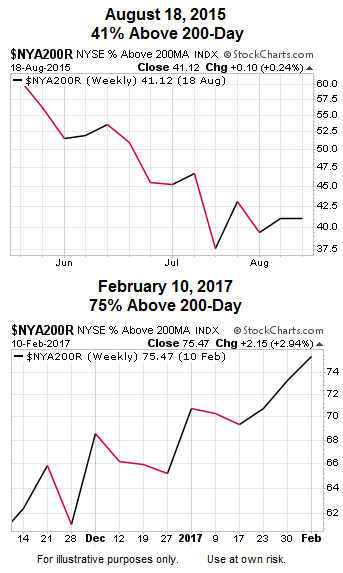 The SPDR Dow Jones Industrial Average ETF (NYSE:DIA) was unchanged in premarket trading Tuesday. Year-to-date, DIA has gained 3.39%, versus a 4.13% rise in the benchmark S&P 500 index during the same period.
DIA currently has an ETF Daily News SMART Grade of A (Strong Buy), and is ranked #6 of 76 ETFs in the Large Cap Value ETFs category.
---
This article is brought to you courtesy of Ciovacco Capital.
You are viewing an abbreviated republication of ETF Daily News content. You can find full ETF Daily News articles on (www.etfdailynews.com)
Powered by WPeMatico