Chris Ciovacco: The energy sector ETF (NYSEARCA:XLE) dropped 28% from its June 2014 high to the 2015 low.
Last week, XLE completed the third and last step needed for a trend change.
The higher high made on tax day (see 3 in chart below) tells us the odds of success in the energy sector are becoming more favorable.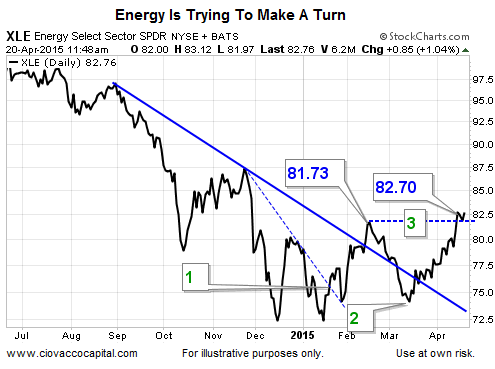 Energy Has Been Consolidating
In a February 19 article, we noted that energy was worth having on the possible-investment radar.
We have not taken a position yet – have we missed anything?
Not really…XLE's February high was $82.29…last Friday it closed at $81.91.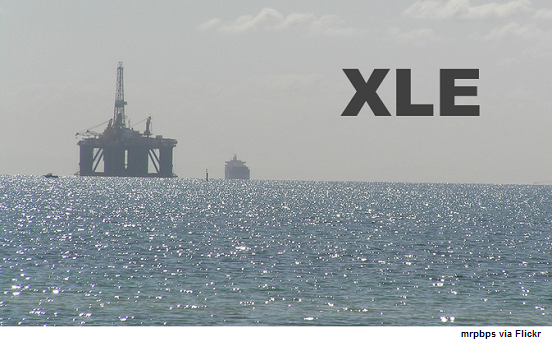 Sector Has Broader Implications
If energy can break to the upside, it would increase the odds of economic/market scenario three playing out.
Scenario three, which involves a still-expanding economy, was described in detail on January 27.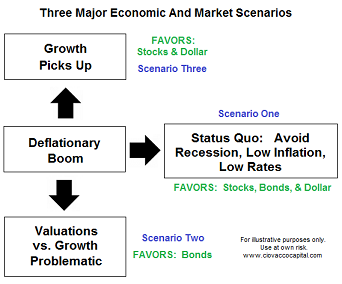 Bigger Picture Is Also At Crossroads
If energy is unable to sustain its recent gains, it will tell us concerns remain about the economy and deflationary pressures.
Like energy, the bigger picture is also at a possible point of resolution, which is the topic of this week's stock market video.
After you click play, use the button in the lower-right corner of the video player to view in full-screen mode. Hit Esc to exit full-screen mode.

M&A Wave In Energy?
Another driver for energy could be an increase in mergers and acquisitions.
From NASDAQ.com:
Royal Dutch Shell PLC's (RDS-A) nearly $70 billion offer for Britain's BG Group PLC may be the starting gun for a wave of oil deals that analysts and bankers have been predicting since crude prices started to slump in June. "This could mark the beginning of a M&A rave, much like the one we saw in the late 1990s," August in Eden, research analyst at Accendo Markets, said in a note.
Investment Implications – The Weight Of The Evidence
A good baby step for the economic and stock market bulls would be for XLE to see a daily close above last week's closing high of $82.70.
If that energy hurdle is cleared, the next test comes at $84.62.