From Chris Ciovacco: The often-misunderstood Dow Theory is being bandied about in financial media these days, but is it actually flashing a bearish signal or not?
Dow Theory Non-Confirmation
The charts below show the Dow Jones Transportation Average (ETF version: SPDR Dow Jones Industrial Average ETF (NYSE:DIA)) has failed to print a new high above the previous high made in 2015. Given the Dow has made a new high, a Dow Theory non-confirmation remains in effect.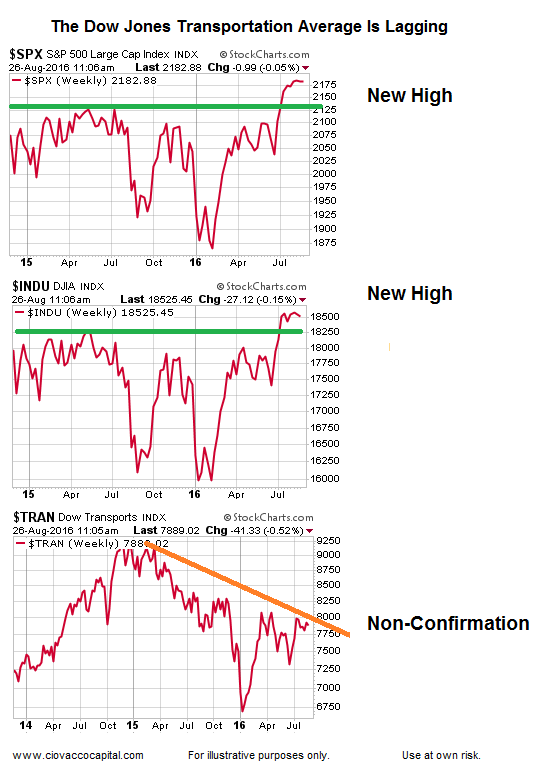 What Can We Learn From History?
This post will review some historical cases to help answer the question:
How concerned should we be about Dow Theory?
This week's video starts with a look at two historical periods when the Transportation Average failed to confirm highs made by other major indexes, including the Dow Jones Industrial Average. The video also updates the trends covered on August 19, along with a analysis of Janet Yellen's Jackson Hole speech.
After you click play, use the button in the lower-right corner of the video player to view in full-screen mode. Hit Esc to exit full-screen mode.


Charts Monitor, Rather Than Dismiss Fundamental Data
Critics of technical analysis often mistakenly believe that using charts discounts the importance of fundamental data, such as earnings, employment, and economic growth. Charts allow investors to monitor the aggregate investor interpretation of all the fundamental data. Said another way, charts are efficient tools used to monitor vast amounts of fundamental data, which is important since fundamentals ultimately determine which assets classes will perform best. When the economy is healthy, stocks tend to beat bonds. When economic fear dominates, bonds tend to beat stocks.
Dow Theory Is Based On Economic Common Sense
Dow Theory is based on a series of Wall Street Journal articles written by Charles Dow. The basic tenets of Dow Theory are easy to understand. Charles Dow believed that:
In order for industrial companies to increase their earnings, they had to produce and sell more goods.
If industrial companies are selling more goods, then transportation companies must be delivering more goods to retailers and wholesalers.
Therefore, in a healthy economy, both industrial companies and transportation companies should be experiencing revenue growth.
If industrial and transportation companies are growing their revenues, then the industrial and transportation stocks should be attractive to investors.
If industrial and transportation companies are doing well and are attractive to investors, both the Dow Jones Industrial Average and the Dow Jones Transportation Average should be making new highs in unison, serving to confirm a healthy economy.
From a bearish perspective, signals are generated when the two indexes make important new closing lows, which is indicative of a weakening economy.
Behind The Averages
After reviewing the companies in the industrial and transportation averages, it is easy to see why they represent logical vehicles to monitor the pulse of the U.S. economy. In the present day, our economy is driven by more than just industrial or manufacturing companies. The Dow Jones Industrial Average contains traditional producers, such as IBM (IBM), 3M (MMM), Boeing (BA), Chevron (CVX), and Johnson & Johnson (JNJ). However, the Dow (DIA) also contains Visa (V), Goldman Sachs (GS), and American Express (AXP), since the present day economy relies heavily on the financial sector. The Dow Jones Transportation Average (IYT) still has railroads, such as Union Pacific (UNP) and Norfolk Southern (NSC), but it also contains more modern logistics companies, such as United Parcel Service (UPS), Fed-Ex (FDX), and J.B. Hunt (JBHT).
This article is brought to you courtesy of Ciovacco Capital.
You are viewing an abbreviated republication of ETF Daily News content. You can find full ETF Daily News articles on (www.etfdailynews.com)
Powered by WPeMatico