This post Investors Are Jumping off the Biotech Bandwagon – Here's What to Do Now appeared first on Daily Reckoning.
Wait– is that the sound of that famous biotech bubble finally popping?
Can't say, dude. But biotechs are definitely losing steam these days, and the worst could be yet to come. Today, I'll show you exactly what to do about it…
We took profits on our big biotech trade earlier this month, booking double-digit gains on Biotech iShares (NASDAQ:IBB). IBB thundered nearly 21% higher year-to-date while the S&P 500 was only up about 2%.
But we didn't pick up our marbles and go home because we thought the biotech boom was out of fuel. We just thought our trade was getting a little ahead of itself, that it might need a breather before heading north again. Big difference.
And for the record, I'm not writing biotech's obituary today. There's no way to predict exactly how far these stocks will retreat. But they are slowing down—and it looks like investors might be jumping off the bandwagon.
Take a look at this chart of the S&P Biotech Index ETF: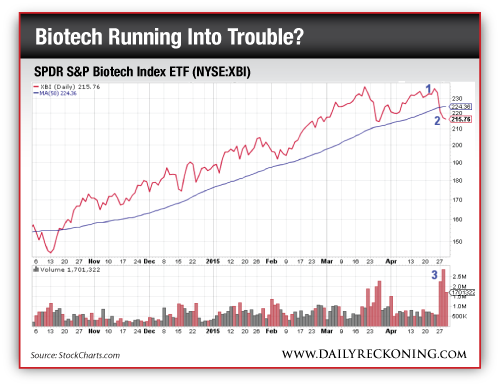 I've numbered three important parts of this chart you must not ignore. These are the signs pointing to a potentially significant biotech pullback.
Let me break it down for you:
XBI posts lower highs
This month's rally failed to top March's highs. That's a sure sign momentum is fading. We want to see rallies bigger than their previous pullbacks or consolidations. But this time biotechs just couldn't fight the selling…
Support is busted
Ever since this sector kicked into gear last fall, its 50-day moving average has been the perfect "bounce zone" for biotech stocks. This sector threatened to dip below its 50-day moving average in February and March—but managed to stay above that critical mark.
This week's been different, though. Biotech stocks couldn't catch a bounce Tuesday or Wednesday. They're now solidly below this 50-day support zone. Bearish! The sellers just keep on comin'. Speaking of which…
Investors are running for the exits
If you turn your attention to the volume bars at the bottom of the chart you can see massive trading Monday, Tuesday and Wednesday this week. The market is dropping, traders are spooked, and they want out.
You can also see that volume on down days (the red bars) has been the strongest since late last month. That's not bullish, my friend.
So there you have it: three solid reasons to remain cautious in the biotech sector for the time being. If you have a ton of exposure to these stocks, you should consider lightening up this week.
As I said, the big biotech bull might not be over just yet. But it is showing signs it needs an extended break. Be careful out there!
Regards,
Greg Guenthner
for The Daily Reckoning
P.S. But don't count the biotechs out yet. If you want to cash in on the biggest profits this market has to offer, sign up for my Rude Awakening e-letter, for FREE, right here. Stop missing out. Click here now to sign up for FREE.
The post Investors Are Jumping off the Biotech Bandwagon – Here's What to Do Now appeared first on Daily Reckoning.