Chris Ciovacco: Based on 30-day Fed fund futures prices, the market is pricing in a 23% probability of a Fed rate hike in June. Said another way, the market currently believes there is a 77% probability Janet Yellen and company will continue with the "do nothing" script at their June 14-15 gathering.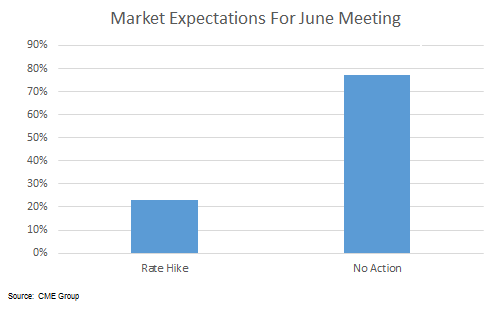 Action vs. No Action Could Determine Market's Fate
The ratio of Treasury inflation-protected securities (TIP) vs. intermediate-term treasuries (IEF) can be used to monitor inflation expectations. All things being equal, in the current environment with lingering fears of global deflation, rising inflation expectations tend to be favorable for "risk on" assets. Conversely, when inflation expectations start to fall, it can adversely impact the equity market (see S&P 500 in the bottom portion of the graph below).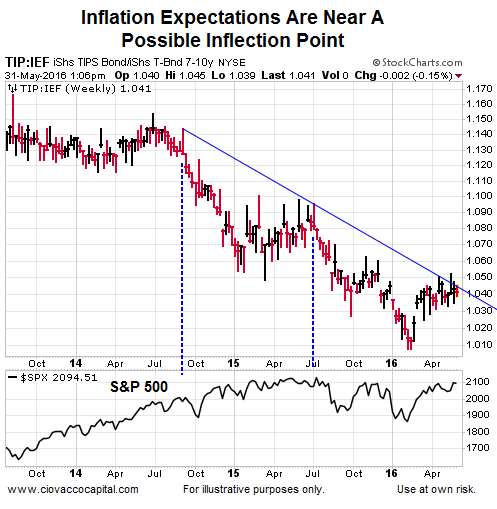 Navigating In Indecisive Stock Market Waters
The S&P 500 hit 2093 in 2014. On Tuesday, May 31, 2016, the S&P 500 traded at 2093.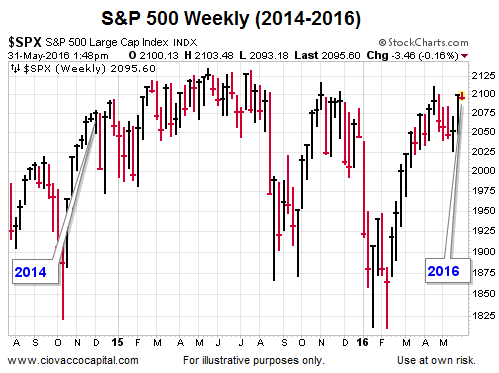 This week's stock market video examines the current state of the long-term standoff between the bulls and the bears, including some potential targets above and below the market.
After you click play, use the button in the lower-right corner of the video player to view in full-screen mode. Hit Esc to exit full-screen mode.

Yellen Leaves Both Doors Open
Janet Yellen was at Harvard last Friday to receive an award. During her visit she made some remarks regarding the future path of interest rates.
Powered by WPeMatico