This post If You're Worried About Rising Interest Rates, Read This… appeared first on Daily Reckoning.
Our good buddies on Wall Street and in the financial press are tearing their hair out over potential rate hikes from the Fed. They're losing their minds predicting when the hikes will happen and just how bad they'll be for the stock market.
Don't listen to any of it. In fact, you'll see in just a minute how one of our favorite trades is shaping up for a nice run right now, despite all that talk…
Look, you can set your watch by the experts' predictions. And by that I mean they're wrong almost all the time. Don't believe me? Just check out this handy graphic: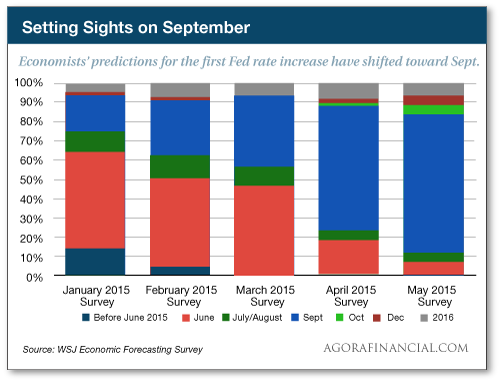 Let's see here. Way, way back in January almost every economist in the land was predicting a rate hike in June. Fine. But as the year wore on these brainiacs began changing their minds. Fast forward to today and you'll see they almost universally agree we'll get that magic rate hike in September.
So given their record, I'm not betting the house on a September rate hike. But I am betting the house on an endless parade of hysteria between now and the fall. Think about it. We're about to enter the low-volume, boring trading months of June, July, and August. There'll be plenty of blank space to fill if nothing else is going on—so why not rampant speculation about rate hikes and how stocks will potentially react to the news?
And we're already beginning to see the side effects of all this rate talk. I told you last week that utilities, which thrive on low interest rates, are getting slammed while banks are creeping higher. These groups will probably continue to pinball as the rate debate intensifies.
But there are other sectors feeling the rate-hike heat right now. Have you checked out homebuilding and housing-related stocks lately? They've gotten pretty dinged up since early April. Some folks are worried that rate increase will scare off new buyers and sink the housing market.
But I'm seeing signs indicating the market could prove a lot of folks wrong. Just check out some of the homebuilder stocks out there. I'm seeing some healthy, tradable bounces in this space right now…
So tune out all this "will the economy be strong enough for a rate hike in September?" talk. It's all noise.
And follow the bouncing charts instead…
Regards,
Greg Guenthner?
for The Daily Reckoning
P.S. Don't listen to the experts. They're almost always wrong. If you want to cash in on the biggest profits this market has to offer, sign up for my Rude Awakening e-letter, for FREE, right here. Stop missing out. Click here now to sign up for FREE.
The post If You're Worried About Rising Interest Rates, Read This… appeared first on Daily Reckoning.