This post If You Want to Make Money, You'll Need to "Cut the Cord" appeared first on Daily Reckoning.
So when are you finally going to "cut the cord"?
No, I'm not saying your mother packs your lunch every day and tucks you in at night – although knowing you it wouldn't surprise me – I'm talking about cutting your cable cord.
That's because the big bad cable monopoly is slowly dying. And today we're going to cash in on one of the upstart companies digging its grave…
Those heinous cable companies have had it pretty damn good for a long time. They've been able to charge an arm and a leg for television and internet…and enjoy all the benefits of a regulated utility…while screwing the consumer (that's you)!
They force you to buy everything but the kitchen sink in their stupid packages. And for what? I mean, who needs 1,000 friggin' channels? I don't need to spend 45 minutes flipping through 80 different cooking channels to realize there's nothing I want to watch. And they have the stones to charge you for it all like you actually want the damn stuff.
But that's all changing now. The cable monopoly is coming to an end…
These companies are still making money now—but they see the writing on the wall because the way people consume content is rapidly changing. Plenty of wised-up folks are now "cutting the cord". They're getting great programming through Hulu, Amazon, HBO's streaming services, YouTube or Neflix for just a fraction of the price.
And a recent Bloomberg report shows that cord-cutting is increasing dramatically. Almost 1.5 million households ended their TV subscriptions last year. And this snowball is just starting to roll downhill, my friend…
The biggest streaming services are gaining serious ground. In fact, Netflix topped HBO in subscription revenue for the first time last year: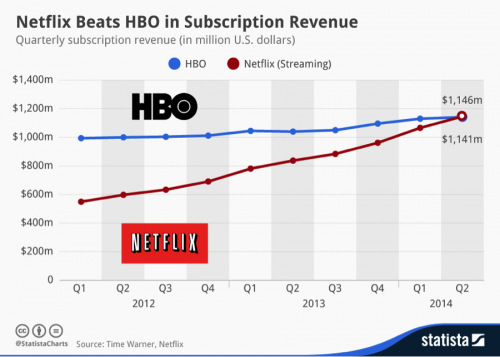 source
The model is working because these streaming services are really coming into their own. Netflix is producing exclusive content people want to watch. And Hulu just shelled out $160 million for the rights to run Seinfeld reruns. Look, if you know a Seinfeld fan you can see the potential there. Yup, the revolution is underway…
"The way people watch video content has changed and Netflix has contributed to those changes by making bold decisions at a time, when others hadn't realized what was coming," explains statista.com. "Netflix now looks like the clear front runner in the new age of content delivery, and [its] decision to go all-in on streaming early in the game could prove golden in the end."
Couldn't agree more. No, I don't think the cable giants will magically go out of business this decade. Too bad. I'm sick of the bastards. But you won't find much growth there. The future is in streaming…
Regards,
Greg Guenthner
for The Daily Reckoning
P.S. It's time to "cut the cord." If you want to cash in on the biggest profits this market has to offer, sign up for my Rude Awakening e-letter, for FREE, right here. Stop missing out. Click here now to sign up for FREE.
The post If You Want to Make Money, You'll Need to "Cut the Cord" appeared first on Daily Reckoning.