This post If You Want to Beat the Market, Small Is the New Big appeared first on Daily Reckoning.
If you'd like to see the major averages shoot higher this summer, then you better start rooting for small-caps to blast off.
Small caps started out the year gangbusters but took a tumble in March. But now they're getting ready to come storming back this summer. And this is your chance to go along for the ride.
We ducked out before the you-know-what hit the fan in late March. We hit the eject button on March 23rd, when the small-cap trade was still red-hot. It corrected shortly after, so our timing was perfect. You should always consider selling when a trade gets too far ahead of itself. That's because the market could almost instantly take back all the ground you've gained– and then some. You can always get back in when the time is right.
Here's what I told you in late March:
"Small-caps have been tearing it up this year. But they can't maintain this torrid pace forever. And while the Russell is the least scary of the charts you've seen this morning, it still could use a breather to refresh itself."
Like I said, it was the right move as it turned out: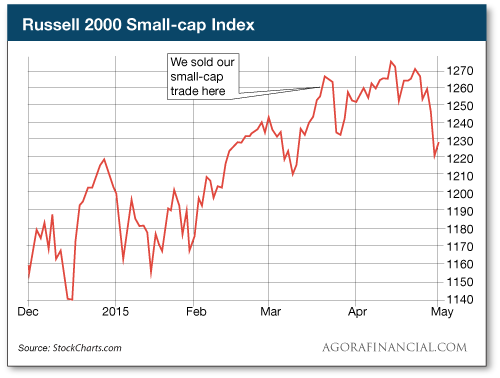 So there you go. We took our gains and headed for the pine. But now, small-caps are showing signs that they're ready to get back into the game this summer. After giving back all of their 2015 outperformance to the S&P 500 in early May, the Russell 2000 small-cap index is once again working on separating itself from the bigger averages: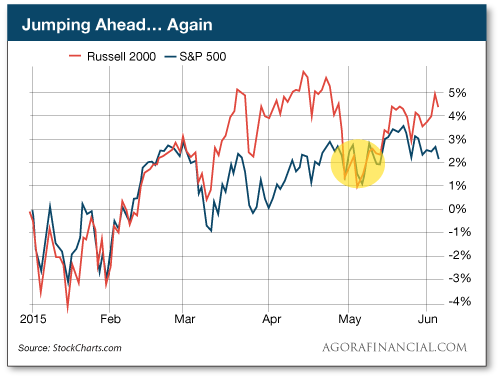 Well, well, would you look at that…
Seems like the ol' Russell is doubling-up the S&P once again. Good news if you ask me. Strong performances from small stocks are a sign of a healthy bull market. You want to see the small companies–considered much more speculative investments–outperforming the big ones. Investors who are willing to take more risk leads to rising prices. Makes sense, right? There's still plenty of nasty market chop out there, but I like what I'm seeing.
It's true the Russell 2000 index did squat in 2014. All investors got from these runts was a whole lot of sideways noise leading nowhere. Last year was the year of the big kids. Heck, even megacap giant Microsoft tripled the S&P's performance over the past year.
But as I've tried to tell you before, small-caps have been mounting stealth rally since last fall. That's why microcaps are one of your big, longer-term trades of the year. After months of consolidation it's time for the small stocks to get back in the driver's seat.
So it's time you began trading them again…
Small is the new big.
Regards,
Greg Guenthner?
for The Daily Reckoning
P.S. Small is big. If you want to cash in on the biggest profits this market has to offer, sign up for my Rude Awakening e-letter, for FREE, right here. Stop missing out. Click here now to sign up for FREE
The post If You Want to Beat the Market, Small Is the New Big appeared first on Daily Reckoning.