This post How to Trade the New Fast Food Boom appeared first on Daily Reckoning.
"The future looks very bleak. I'm selling my McDonald's stock."
I told you late last year that McDonalds was going down. I practically grabbed you by your shirt collar to drive home the point. But listen, that quote's not from me. No…
It's from the owner of a McDonald's franchise!
Could it get any worse for this junk food dinosaur now that its own franchisees are dumping its stock?
Maybe.
Sure, McDonalds shares are up about 4% this year. But that doesn't make up for the last 12 months of stagnation.
Mickey D's has a new CEO to fix this mess. No matter. This dinosaur of a fast-food chain is on the road to ruin. Ronald is dying a slow, painful (possibly diabetes-related) death. And there's nothing anyone can do about it.
Even the store owners hate corporate's new turnaround plan…
"Most franchisees cited costs as a major hurdle to the turnaround plan," Business Insider reports. "They said McDonald's aggressive promotions, along with lagging sales, have bankrupted them and they can't afford any new investments in their stores."
McDonalds sales continue falling short of estimates. In fact, one recent sales miss prompted The New York Times– in the understatement of the century– to declare that consumers' changing tastes are to blame for the chain's poor performance.
"Americans just aren't choking down this junk like they used to," I told you when we first started covering the meltdown. "The fast food burger, fries and a Coke are just down payments on an early coronary. And everyone's finally gotten the message. In a recent Consumer Reports survey, McDonalds ranked dead last in food quality, value, and service. Consumers are looking for healthier alternatives…"
And investors are voting with their money. McDonalds stock has woefully lagged the S&P over the past 12 months, despite its recent short-lived bounce. And things will only get worse over the next few years…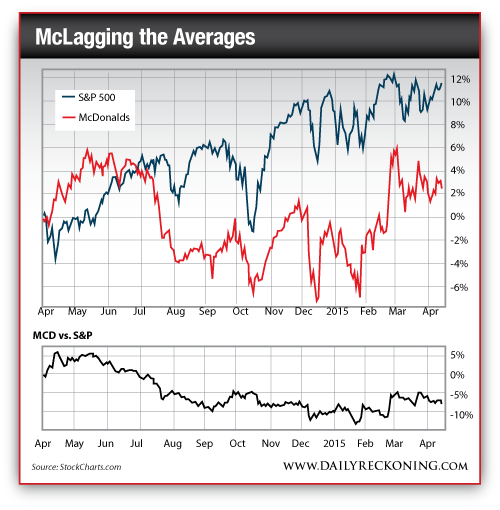 McDonalds will continue drowning in all that polyunsaturated french fry grease. Bad news for them. But if you want to rake in a pile of easy money, it could be great news for you. Instead of wasting time trying to play this disastrous McDonalds comeback, you should instead turn your attention (and trading dollars) to the growing "better fast-food" niche. It's absolutely exploding right now.
Companies like Chipotle and Shake Shack are eating Ronald's lunch. That's where the growth with be over the next few years…
Regards,
Greg Guenthner?
for The Daily Reckoning
P.S. The next Chipotle? Could be. If you want to cash in on the biggest profits this market has to offer, sign up for my Rude Awakening e-letter, for FREE, right here. Stop missing out. Click here now to sign up for FREE.
The post How to Trade the New Fast Food Boom appeared first on Daily Reckoning.