This post How to Survive a Screwball Market appeared first on Daily Reckoning.
If you don't want to lose your shirt this month, you have to buy the strongest trends on the market. Period.
So today is your final installment of this week's post-Greece craziness "search for strength" coverage.
I showed you yesterday how health care and biotech stocks are the strongest and safest     names on the market right now. And today I'm showing you another profitable sector that's been flexing its muscles all year. If you're looking to trade this screwball market, this is one place you want to be…
Monday sure was fun, wasn't it, with the Dow down 350 points and all? But if you thought this whole Greece thing would inject some much-needed excitement into what's been otherwise a boring market, you'd be dead wrong. Stocks have pretty much stabilized since then.
Aside from Monday's episode, U.S. stocks have shown little interest in jumping around. We witness the biggest increase in volatility in two years to start the week—then it's right back to the same boring routine. Weird, right?
And we have the stats to prove what a lackluster market this has been as this short week comes to a close:
"The S&P 500 finished with a slight loss in the second quarter, snapping a nine quarter win streak," technician Ryan Detrick explains. "Going back to 1928, there were just three other nine quarter win streaks and this was the first one that didn't make it to at least 10 quarters.  Also, after nine straight up quarters this streak had the smallest gain."
Check it out: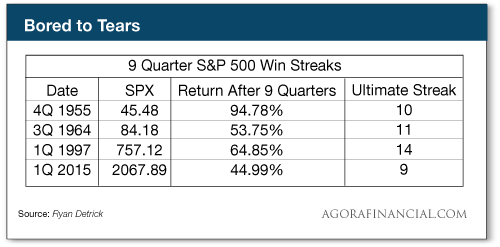 And nothing's changing tomorrow. The long Independence Day weekend is upon us and the markets are closed. If you're looking for fireworks this weekend you'll have to settle for the real thing.
So here we are—right back where we started the year. Just not much happening, despite Monday's fun and games.
But as I've preached to you for the past six months, not all sectors (or stocks!) are created equal this year. Pockets of the market have been doing the heavy lifting for the slackers. So let's take a quick look at this year's market leaders.
It's pretty obvious who the winners and losers are: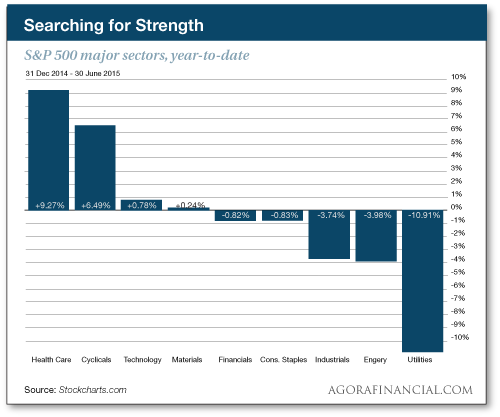 On one end we have utilities in the gutter. Last year's "safety trade" is now a lead balloon. On the other, health care shares are soaring. But you knew that—we already talked about how well biotech stocks held up this week… not to mention that we've been riding the health care trend for months now…
So today I want to draw your attention to another strong group of stocks: consumer cyclicals. This sector is up nearly 7% on the year (compared to a flat S&P). It's made up of companies you spend your disposable income on—Comcast, Home Depot and Nike are all major components. And yeah, most of these stocks are crushing the sagging averages right now.
I can't say it enough in this market… stick to strength.
Regards,
Greg Guenthner?
for The Daily Reckoning
P.S. Stick with strength. If you want to cash in on the biggest profits this market has to offer, sign up for my Rude Awakening e-letter, for FREE, right here. Stop missing out. Click here now to sign up for FREE.
The post How to Survive a Screwball Market appeared first on Daily Reckoning.