This post How to Profit from the Rise of the "Beer Snob" appeared first on Daily Reckoning.
Warning: the bubble's about to burst!
No silly, not the stock bubble everyone thinks we're in. The beer bubble…
That's right. The beer market might be getting a little too heady these days. Too many craft beers—yet not enough craft beer drinkers to keep everyone rolling in profits.
But the good news is that the larger craft brewers will do great. And today we're gonna grab the best of 'em…
There are just way too many craft breweries popping up all over the place. It's unsustainable. Sure, it's great to have your pick of a billion different experimental beer styles but come on already.
Consider these statistics from Fortune:
The number of craft breweries has more than doubled over the past six years. And by the end of this year there'll be a new craft brewery opening in the U.S. every 12 hours. Every 12 hours!
Now I'm seeing this stuff called sour beer showing up. I guess it's been around for a while but I've never heard of it. Have you? I just can't bring myself to try it. Call me crazy but to me 'sour' and 'beer' don't mix. It just seems that this whole craft beer thing might be getting out of hand. You can keep your damn strawberry and peach beer. Ya know?
Anyway, it's funny that we've witnessed the birth of the "beer snob" over the past few years, especially when you consider that for decades beer was a working man's drink enjoyed best shirtless after mowing the lawn on a hot summer day.
But this is a huge market we're talking about here…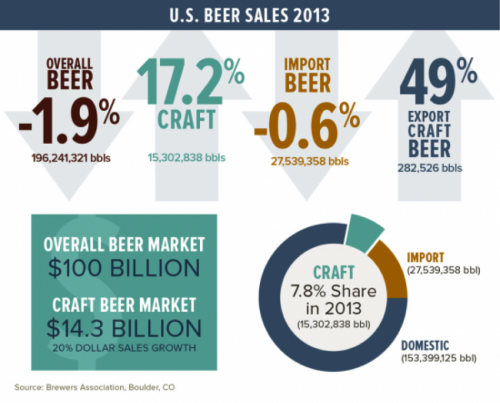 Now, do I think every craft brewer will go flat if this whole craft beer trend tanks? Nah. The big kids that earned market share will probably be fine. It's the Johnny-come-lately's that'll suffer the most.
So while smaller microbrews might not be the best investment right now, I think the trend of better beer isn't going anywhere. And the bigger breweries are realizing they need to figure out how to compete in a market where tastes are clearly evolving.
So saddle up to the bar and order yourself a cold one for the long Memorial Day weekend— it might actually help you book some gains.
Just don't order any of that stupid sour beer.
Regards,
Greg Guenthner?
for The Daily Reckoning
P.S. Drink up! If you want to cash in on the biggest profits this market has to offer, sign up for my Rude Awakening e-letter, for FREE, right here. Stop missing out. Click here now to sign up for FREE.
The post How to Profit from the Rise of the "Beer Snob" appeared first on Daily Reckoning.