This post How to Profit from the Death of a Chicken Empire appeared first on Daily Reckoning.
How about a Kentucky Fried coronary?
The once-popular "Kentucky Fried Chicken" – as it was known before fried anything became taboo—has fallen on hard times lately. KFC is losing market share to the "better fast food" options we've touted in these pages for months.
Just check out how fast food dinosaur KFC is tripping all over itself trying to stay relevant…
As The Washington Post reports, KFC is even losing the fried chicken wars: "These are dark days for KFC's once-dominant chicken empire. After five years of crumbling sales, the extra crispy mega-chain, which in 2012 lost its throne as America's top chicken seller to Chick-fil-A, now makes less money than eateries half its size, like Applebee's and Panera Bread."
I'm no restaurateur, but that looks like a massive problem for KFC. Management apparently agrees, because the chain is tossing $185 million into what the Post calls a "massive, bizarre turnaround campaign in hopes of winning a seat again at the fast-food table."
Good grief. And the big turnaround campaign? The good folks at KFC have decided to resurrect the Colonel himself for a series of web and television spots. So not only are they trying to sell you a product you don't want—they're using a zombie pitchman to do their dirty work.
They're wasting their time. As I've said time and again, American's tastes are evolving. McDonalds is out. Shake Shack and Chipotle are in. Consumers are willing to pay a premium price for better food. And investors are willing to pay a premium for better fast food's stock. It's that simple. The only thing I'll give KFC credit for is avoiding any ham-handed attempts to add healthy items to its menu (like McDonalds has done with kale and antibiotic-free chicken). At least the Colonel is sticking with what he knows: an artery-clogging bucket of chicken.
So are all restaurant stocks bad news right now? Is KFC and McDonalds stock dragging the whole industry down? Hardly. Just look at the stats. Americans are eating out in record numbers. Remember this chart from a couple weeks ago?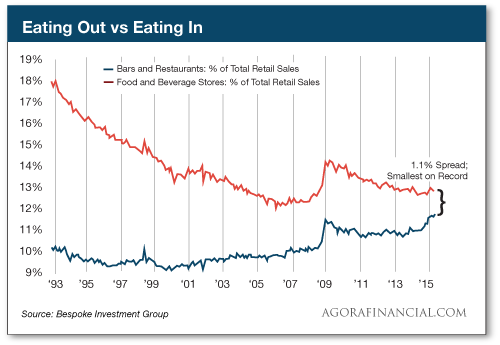 Truth is, you should already be hip to this undeniable trend. While many of the traditional fast food restaurants continue to suffer, there are some other restaurant stocks that are doing everything right.
The Colonel's got issues. So dump this fast food dinosaur and ride with the winners instead.
Your heart will thank you.
Regards,
Greg Guenthner?
for The Daily Reckoning
P.S. Sorry, Colonel. If you want to cash in on the biggest profits this market has to offer, sign up for my Rude Awakening e-letter, for FREE, right here. Stop missing out. Click here now to sign up for FREE.
The post How to Profit from the Death of a Chicken Empire appeared first on Daily Reckoning.