This post How to Profit from a Bull Market in Bad Pizza appeared first on Daily Reckoning.
Hungry? Got a Twitter account? Good, then order us some pizza…
Yes, thanks to the wonders of technology you can now order a ninth-rate pizza from Dominos by simply tweeting a picture of a pizza. Think I'm joking?
"Customers who add their Twitter handle to their Domino's Pizza Profile will be able to re-order their Easy Order by simply tweeting #EasyOrder or the pizza emoji to @Dominos," a pizza PR person explains. "Domino's will then send their Easy Order through an automated direct message, which customers must confirm."
This isn't the stupidest thing I've ever read in my life. But it's close. And I'm not sure why anyone would want to eat Domino's at all—whether it's ordered thru emoji or the old-fashioned way.
But I'm serious about this: for whatever reason, we're in a pizza bull market. And you could be looking at big gains over the next several months if this trend plays out like it could…
And it's not just Domino's that's rolling in the dough: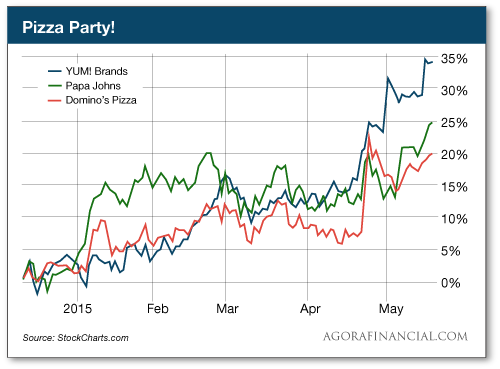 Dominos—despite its newfangled Twitter ordering system—isn't even the best performing pizza chain of the bunch. Papa Johns is up nearly 25% over the past six months. And Yum! Brands has rocketed higher by more than 34%.
That's some serious performance from these pizza giants (Yum! Brands the parent company of Pizza Hut, in case you didn't know). And keep in mind the S&P 500 is only up about 5% over this exact same timeframe. So if you've been long cheap pizza you've absolutely crushed the market.
But here's the good news—I think these greasy pizza stocks have a lot more room to run.
Remember, I told you last week that while retail sales came in flat overall there was one major bright spot. Spending at restaurants was higher. Folks are eating out in record numbers. And these cheap pizza joints are a great way to play the trend.
So skip the delivery and the pizza emojis on you smart phone. Order up some of these hot shares instead…
Regards,
Greg Guenthner
for The Daily Reckoning
P.S. It's time to get your slice of the pie. They're almost always wrong. If you want to cash in on the biggest profits this market has to offer, sign up for my Rude Awakening e-letter, for FREE, right here. Stop missing out. Click here now to sign up for FREE.
The post How to Profit from a Bull Market in Bad Pizza appeared first on Daily Reckoning.