This post How to Plan a European Stock Market Vacation appeared first on Daily Reckoning.
Book that European vacation yet?
With the U.S. dollar displaying unprecedented strength going across the pond is a bargain these days. So go ahead– pile the family into a rented Citroen and get stuck in a roundabout for eight hours…
"Look kids, it's Big Ben… and Parliament!"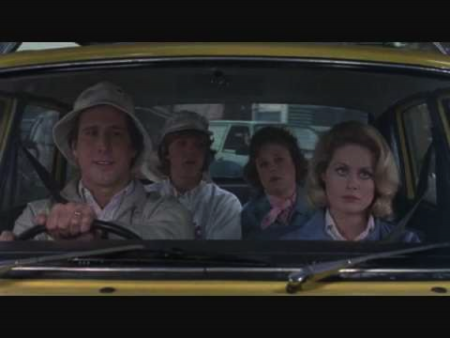 And wouldn't you know it, some folks are taking this advice. No, they aren't taking that trip of a lifetime to Paris or gondoliering through the canals of Venice. Instead, they're investing in European stocks. And today it's time for you to join them for some double-digit gains…
"U.S. stock funds have seen $44 billion in outflows in the year-to-date for their worst start to a year since 2009," according to Bank of America Merrill Lynch. "Meanwhile, European equity funds have enjoyed $46.6 billion in inflows so far in 2015…"
So while the financial media noise machine falls all over itself dissecting Apple earnings, it's missing the story right in front of its nose: investors are shying away from U.S. stocks—even as they hover around all-time highs.
The smarties at Bank of America Merrill Lynch say it's because investors are worried about that (exaggerated) stock bubble we're always talking down around here. Add in soft economic data and a rallying dollar that hurts U.S. corporations depending on sales abroad, and you have plenty of reasons to ditch the good ol' U-S-of-A for faraway lands.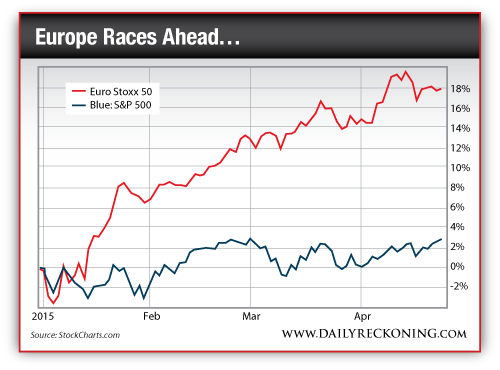 Is any of it true? I don't know. But I do know this: U.S. stocks aren't doing much in 2015 after moving higher for six straight years (the S&P is up a little more than 2% year to date). But European markets? They're leaving U.S. stocks in the dust, even though the European economy ain't exactly a powerhouse right now. The Stoxx Europe 600, MarketWatch reminds us, is up about 16% this year. So you really can't blame investors for taking the bait…
For the past few years I've argued that your money should be in U.S. stocks. "And for damn good reason," I wrote earlier this month. "They've soared to record highs while emerging markets were nailed to the floor. Chinese stocks never recovered from their post-financial crisis malaise, and Europe tripped into the gutter like a drunk stumbling home at 4 a.m."
But the times they are a-changing…
Look, we've been hunting for overseas gains all year. We already hit a home run with our China play as speculators flooded into the Shanghai market. And I recently threw you a bone with three international markets that are screaming "buy me!" right now, along with simple ETFs you can buy to play the trends. And overseas markets continue to look like great places to park your trading dollars.
So today, let's add some European flavor to the mix. If you're not taking that European trip, might as well let your investments take your place…
Regards,
Greg Guenthner?
for The Daily Reckoning
P.S. Time to send your trading portfolio on a European adventure. If you want to cash in on the biggest profits this market has to offer, sign up for my Rude Awakening e-letter, for FREE, right here. Stop missing out. Click here now to sign up for FREE.
The post How to Plan a European Stock Market Vacation appeared first on Daily Reckoning.