This post How to Eat Your Way to Double-digit Gains appeared first on Daily Reckoning.
You're not spending enough money, you tightwad!
That's what the so-called experts are saying about you after the latest retail sales report came out yesterday…
"There is no question that the tone of spending in April was tepid at best," Stephen Stanley, chief economist at Amherst Pierpont Securities, told MarketWatch.
Get this—retail sales were *gasp* flat in April.
What's wrong with you? Don't you know it's your patriotic duty to spend every last cent you make? Spending less on gas, cars, home furnishings and electronic goods? Ridiculous.
But it turns out you've been spending money on something. And you actually have a shot at double-digit gains trading this powerful new consumer trend…
See, while retail sales were flat overall there was one major bright spot. Spending at restaurants was higher. Which brings us to a much bigger trend: people are eating out a lot more.
That's right—Americans are eating out in record numbers. You might have even seen the deluge of new restaurant IPOs that have hit the Street over the past couple of years. Well, there's a reason for that…
"Americans are increasingly choosing to eat their meals out rather than cook at home," reports Bespoke Investment Group. "[Yesterday's] Retail Sales report for the month of April was a perfect case in point.  While overall sales were unchanged, sales at Bars and Restaurants increased 0.7%, while sales at Food and Beverage Stores declined 0.13% in what has been a continuation of a trend that has been in place for the last several years."
Don't believe it? Feast your eyes on this beauty of a chart: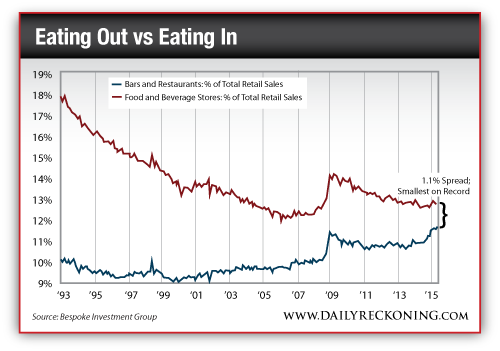 No, that's not a typo.
Here's Bespoke again: "In 1993, Bars and Restaurants accounted for 9.8% of total sales while Food and Beverage Stores accounted for 18.6%.  Over time, though, Bars and Restaurants have consistently seen their share rise, which as of April stood at a record 11.7% of total sales.  At the same time, Food and Beverage Stores have seen their share decline to 12.8%, narrowing its share lead over Bars and Restaurants to just 1.1 percentage points, the lowest on record."
So not only are we lazy and dumb—we're also eating out for every single meal. Maybe all those new restaurant stocks are onto something.
Regards,
Greg Guenthner
for The Daily Reckoning
P.S. Eat your way to trading gains. If you want to cash in on the biggest profits this market has to offer, sign up for my Rude Awakening e-letter, for FREE, right here. Stop missing out. Click here now to sign up for FREE.
The post How to Eat Your Way to Double-digit Gains appeared first on Daily Reckoning.