This post How to Book 20% Gains When Nobody's Looking… appeared first on Daily Reckoning.
Don't look now– oil is soaring to new 2015 highs…
That's right: black gold's making a big comeback. And if you can peel your eyes away from the stock market for just one minute I'll show you how to play this trend for double-digit gains…
What the heck is going on over in the oil patch? Are we headed back to the good old days of $100 highs? Or is this bullish action just a relief rally from the massive selling over the past six months?
How about none of the above?
Look, I've told you before and I'll tell you again: oil's not going to magically spring back to $100 a barrel—no matter what any analyst might think. But you can't really say it'll fall that much, either.
"The oil crash is forcing energy analysts to actually make independent forecasts. And analyst forecasts for black gold are all over the place right now," I told you earlier this month. "Some of the smartest guys in the room think oil will drop to $20 in short order. Others see Texas tea zipping back above $70 before July."
Luckily for you the charts are doing the talking right now…
Crude is creeping toward $60 a barrel. That's the highest price we've seen since December.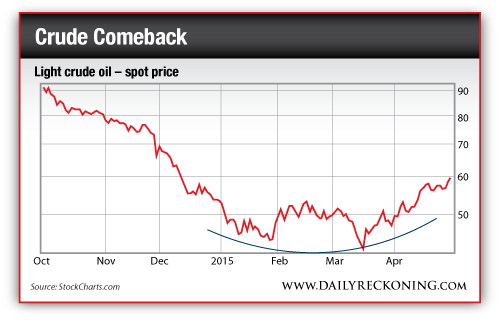 Crude supplies and production levels aren't what's fueling this recent move. But the recently tumbling dollar is. After the dollar's unprecedented rally, it's taking a much-needed break, which is showing up in the oil market:
"The greenback weakened for a seventh straight day Thursday, the longest losing streak since April 2011, after Federal Reserve policy makers indicated they're in no rush to raise interest rates amid slowing growth," Bloomberg reports. "The losses cap the U.S. currency's first monthly decline since June."
Maybe that's the only catalyst we need…
Plus, no one's paying attention to the oil patch right now. They're too busy nervously watching the stock market retreat from its highs. Oh, and that also means we have the potential to see massive rebound trades in the energy sector while all eyes are elsewhere.
Another important note: We also don't need $100 oil to see big gains trading energy. We're not looking at long-term fundamentals. But it does help that many of the energy names that had been absolutely crushed since the fall are starting to look a whole lot healthier.
Keep riding that energy stock rebound. We expect even more gains in the days and weeks ahead…
Regards,
Greg Guenthner
for The Daily Reckoning
P.S. If you want to cash in on the biggest profits this market has to offer, sign up for my Rude Awakening e-letter, for FREE, right here. Stop missing out. Click here now to sign up for FREE.
The post How to Book 20% Gains When Nobody's Looking… appeared first on Daily Reckoning.