This post How to Bag Easy Gains from the "Mass Affluent" appeared first on Daily Reckoning.
Fickle fashion trends are damn near impossible to figure out.
But today, you've got a chance to bag an easy 15% gain off the rapidly changing tastes of the "mass affluent" – but you have to pounce on this thing now before they change their minds…
So who are these "mass affluent" types? They're the people rich enough to demand premium products and services—but not rich enough to be considered wealthy. They're more like the 11% than the 1%. So they don't get hit as hard as your typical middle-class family when recession hits. And they love to spend money.
Everyone wants a piece of the mass affluent market these days. And why not?
I mean, who doesn't want an overpriced soy latte to go with the overpriced leather handbag? So these upwardly mobile types (and their offspring) are the primary targets of nose-in-the-air brands like Starbucks and Coach.
But these mass affluent sorts have the loyalty of a hooker. They'll dump one high-end brand for another at the first whiff of a better deal. And a company's profits can go poof if it doesn't figure out in advance what the hell this bunch wants next season.
So some of these luxury stocks can be captains of the market at any given moment—while others get stuck scrubbing the toilets. And that's exactly what the market is showing us right now…
This earnings season has been Christmas morning for some luxury retailers and a total bust for others. For a tale of two brands, just take a look at Tiffany and Co. (NYSE:TIF) and Michael Kors (NYSE:KORS).
Tiffany reported a big earnings beat yesterday, easily topping first quarter estimates. Its shares hadn't done much this year, but now it looks like the iconic jeweler is serious about a comeback. Shares popped more than 10% Wednesday. Here, see for yourself: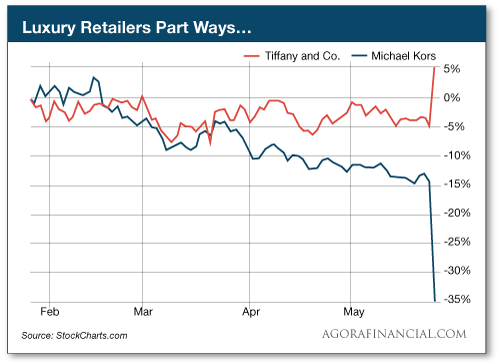 Then there's Michael Kors. That's the sad line on the chart today. Shares of this high-end handbag maker plummeted to 52-week lows after missing earnings estimates. And it didn't help that its second quarter outlook painted a dark picture.
Look, I can't tell you the first thing about fashion except that most runway models are so skinny they can hang glide off a Dorito. But I can sure as heck tell the difference between a crashing chart and a popping chart. KORS is tossing its cookies going down the drop tower right now while TIF is clearly on the jump.
The choice here is obvious. If you you're looking for a hot stock to trade in this sector, Tiffany could be a solid bet heading into the summer.
Regards,
Greg Guenthner?
for The Daily Reckoning
P.S. How about a soy latte with that handbag? If you want to cash in on the biggest profits this market has to offer, sign up for my Rude Awakening e-letter, for FREE, right here. Stop missing out. Click here now to sign up for FREE.
The post How to Bag Easy Gains from the "Mass Affluent" appeared first on Daily Reckoning.