This post How Not to Use a Mobile Credit Card Machine appeared first on Daily Reckoning.
It was time to leave…
"Monsieur," the waiter said, handing over what looked like a Game Boy with a slot to enter my credit card.
We took it and settled the group's tab, pressing the buttons on the gadget that we guessed were appropriate, given the French prompts were lost on us. Out of the top, a receipt of our bill neatly printed out.
We grabbed the paper… gave it a tug… and then a second, herculean tug… until, finally, the Game Boy's back broke open and rolled out a mouse-sized white carpet of receipt paper across the barroom floor.
It was such a smooth move, all the waiter could do was take the mess and drape it around our neck: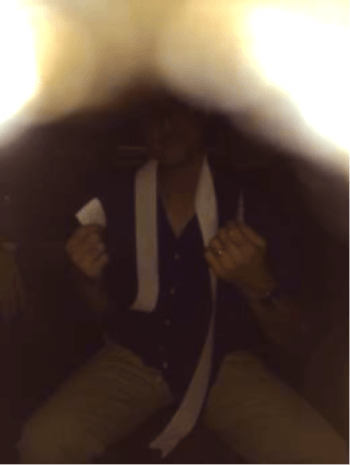 Cashless Society Tip #1: Tear the credit machine receipt toward you, not away…

And so, the first casualty in the War on Cash happened on the 3 rue Daunou in Paris at Le Sherwood piano bar.
Not three days before, at the currency exchange in Heathrow Airport, we had this very concern. "I won't be here that long. Do you think I'll need some pounds and euros to get by without a problem?"
"For $50 worth, I wouldn't," replied the man behind the desk. "It's a cashless society, don't you know? You can buy anything with a debit or credit card here."
Uh-huh…
"Right now, they're just making it seem convenient," said Jim Rickards when we told him the clerk's response. We were in Europe — two days in London, two days in Paris — because a dedicated group of publishers want to bring Jim's message to the U.K. and France.
He continued explaining that the government and banks will say, "'Why carry all that messy cash and change around when you can just use a credit or debit card?' They'll make it seem like it's a matter of convenience, until, eventually, we'll reach the cashless society. At that point, the government can freeze the financial system whenever they need to, like in Greece now."
Greek banks are still closed today. By Monday, the government hopes to open them again. The new proposal before the Greek parliament, according to The Wall Street Journal, includes: "changes to Greece's sales tax system"… an "overhaul of the pension system"… increasing "the sales, or value-added, tax on restaurants" plus "corporate taxes to 28% from 26%." They would have to be accepted by the so-called Troika, in order for Greece to receive the bailout funds it needs.
And yet the main problem — and not just in Greece — remains. "Until recent times," relates The Daily Reckoning U.K.'s Ben Traynor, "central bankers were traditionally wary of intervening in a crisis. One reason was what's called moral hazard. This is the idea that by bailing out the foolish, they would simply encourage future follies."
Ben goes on:
"The trouble is that if things get too bad, the central bank may have no choice. If it offers support, it reduces the incentive to exercise discipline in future.
"But if it lets nature take its course, as the U.S. authorities did with Lehman Bros. in 2008, the fallout can be so bad that it requires even more support to contain it. This in turn leaves markets confident the central bank would never be so rash as to withdraw support again.
"Of course, this leaves the field clear for even more mischief and a bigger mess to clean up down the line.
"It's an unenviable decision for ECB President Mario Draghi and his colleagues.
"Crisis now? Or bigger crisis later?"
Later, it seems. "Markets Rally on Greece Deal Optimism" reports The Wall Street Journal at writing. U.S. stocks are up… commodities like copper are up… and U.S. Treasuries and German bunds have sold off. Happy times are here again.
Writing to me in an email, Jim Rickards said, "I expect the Greece situation to be settled by Monday." If he's right, another pat on his back is in order for getting the "There will be no Grexit" call right once again.
The parties involved in the deal should hurry, though. The stakes are higher than just people's pensions… bankers' loans… and the future of a monetary union. London's been dangerously sunny, while Greece is gray. We saw an English barbershop Wednesday that explained why: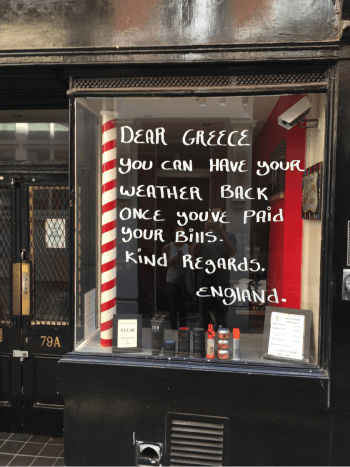 Talk about making an offer they can't refuse…

The aforementioned Ben Traynor, who honchos The Daily Reckoning U.K., reports from London. Click here on for his English perspective on the pending Greek deal and what might come afterward…
Cheers,
Peter Coyne
for The Daily Reckoning
P.S. Here are three more snapshots from the Rickards' European tour…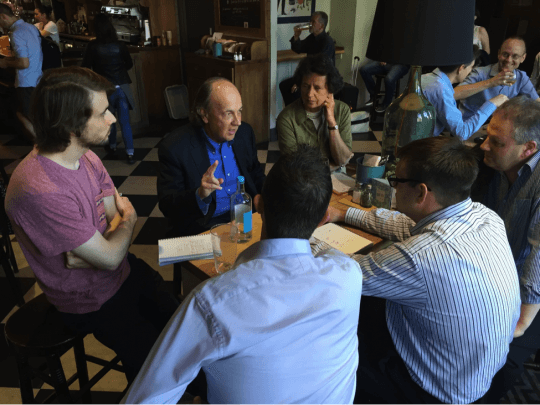 Jim and the Agora Financial U.K. team discussing the coming monetary collapse at a pub called The Betjeman Arms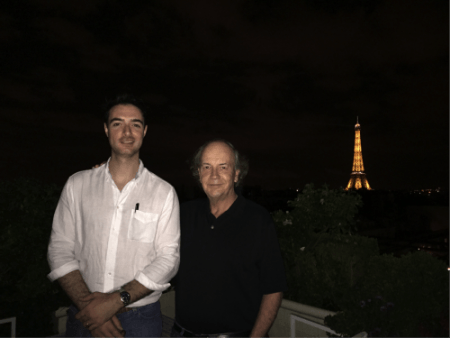 Jim and I enjoying Partagas No. 5's on Hotel Raphael's rooftop…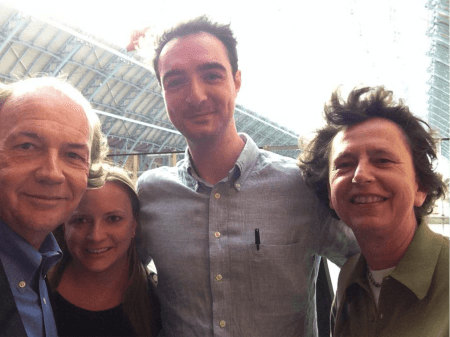 Left to Right: Jim, Ali Rickards, me and France's Simone Wapler at Kings Cross in London
The post How Not to Use a Mobile Credit Card Machine appeared first on Daily Reckoning.