Jim Bach:  To its credit, Best Buy Co. Inc. (NYSE: BBY) stock has held together well despite the pressures brick-and-mortar stores face contending with a consumer shift to e-tailers like Amazon.com Inc. (Nasdaq: AMZN).
It has certainly fared better than Circuit City, which liquidated in 2009. And, of course RadioShack Corp. (OTCMKTS: RSHCQ), which delisted from the New York stock exchange and declared bankruptcy in February.
"Brick-and-mortar stores are going to continue to struggle to find ways to compete," Money Morning Technical Trading Strategist D.R. Barton said. "However, with that being said, Best Buy has probably done better than anyone."
BBY stock has certainly had its struggles. In January 2014, weak holiday sales slammed BBY stock. It fell nearly 30% in one day. This was from its Jan. 15 close of $36.04 to its $25.74 close the next day.
It's these kinds of shocks that reveal the true value of the BBY stock price.
"This is not a stock that you're going to put in a portfolio and hold for 20 years," Barton said. However, he added, "It is a stock that you can find some pullbacks to buy."
BBY stock has an uncertain future.
But it is providing an opportunity right now for investors with a shorter time horizon to take quick gains.
Here's how to play BBY stock right now…
The BBY Stock Trade with 10% Upside
Following its devastating January 2014 sell-off, where the stock had fallen to $21.80 by Jan. 30 – 48% off its Nov. 2013 high of $42.35 – BBY stock provided a great entry point.
Any investor who saw BBY stock as oversold, and who bought at its bottom and sold at its top reached last month, would have pocketed an 88% gain. It closed March 18 at $41.03 a share.
Right now, BBY stock doesn't have the legs to make another similar run.
And its turnaround efforts that began in November 2012 under the new CEO Hubert Joly, while mildly successful in cutting costs and bolstering online sales, haven't yet proven Best Buy will effectively shrug off the Amazon behemoth in the long term.
But there are certainly some quick profits to be made. And BBY stock has a compelling technical case to make for at least an intermediate-term buy.
The graph below shows that BBY stock has been holding steady above long-term trend lines.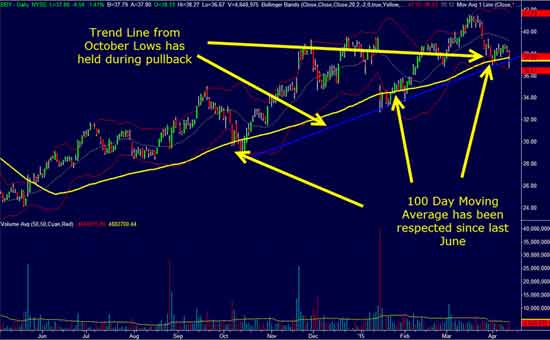 And since hitting $41.03 last month, it has experienced a pullback. It's down about 7%. If it sticks to the trends, it could see a bounce and climb at least as high as a support level of $42.35 established in Nov. 2013.
Barton said if you buy BBY stock now, it could give you a nice, quick 10% profit.
And there's a fundamental catalyst lurking in the shadows that could support an even bigger bounce…
How Apple Could Give BBY Stock a Quick Lift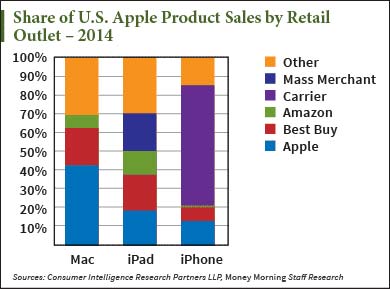 The accompanying chart shows that Best Buy is a rather important seller of Apple products. About 18% of Macs, 18% of iPads, and 9% of iPhones were sold at Best Buy stores in 2014.
"Best Buy does move a lot of Apple merchandise," Barton said.
Apple Inc. (NASDAQ:AAPL) has recently unveiled its new wearable tech product, the Apple Watch. And while Apple will only sell these watches through their own retail outlets, flat sales could force the Apple Watch onto the shelves of other consumer electronics vendors like Best Buy.