From Gary Savage: Despite many analysts' and pundits' prognostications for a big market dip after the presidential election is decided, the price action in the S&P 500 and Nasdaq indexes are telling a different story.
Everyone seems to think we are going to get a big sell off right after the elections. I doubt that will happen, as we will be entering the most bullish time of the year (not to mention the Nasdaq is breaking out of its 15 year consolidation). The last two intermediate cycles were about normal in duration. I expect this cycle to stretch a bit and possibly not bottom until January.
The Nasdaq breakout above all-time highs is holding, which is hugely bullish. This is going to go further than anyone can imagine over the next five years.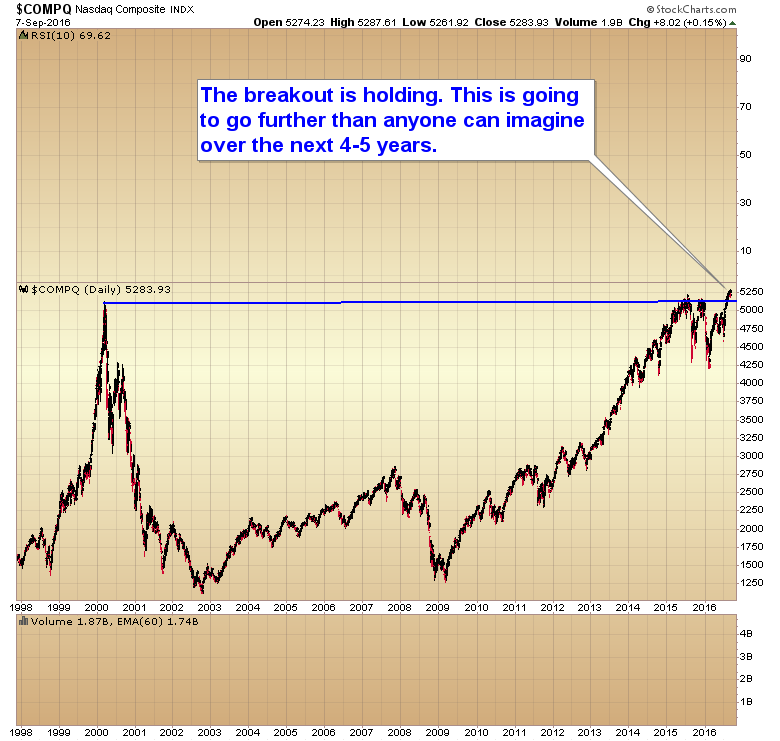 So while we will likely see a test of the recent market breakout, the charts are telling us it probably won't happen until January — not in November as so many are predicting.
The SPDR S&P 500 ETF Trust (NYSE:SPY) rose $0.16 (+0.07%) to $219.17 per share in premarket trading this morning. The largest ETF tied to the S&P 500 index has risen 7.43% year-to-date, and 13.74% over the past 12 months.
Meanwhile, the PowerShares QQQ Trust, Series 1 ETF (NASDAQ:QQQ) was down slightly in the premarket this morning to $117.90 per share. The biggest ETF by assets tied to the benchmark Nasdaq 100 index has gained 5.42% year-to-date, and 15.43% over the trailing 12 months.
This article is brought to you courtesy of Smart Money Tracker.
You are viewing an abbreviated republication of ETF Daily News content. You can find full ETF Daily News articles on (www.etfdailynews.com)
Powered by WPeMatico