This post Here's the Hated Trade that Could Double Your Money this Year appeared first on Daily Reckoning.
Don't tell the mainstream financial press, but we're in the early innings of a massive homebuilder recovery.
And if 2012 is any indication, we could be looking at 90%-100% gains if this housing recovery stays on its horse. I think it will. And today you'll see how to play it…
Look, most folks still have blinders on. They just can't fathom how these stocks can post the eye-popping gains I just mentioned. They point to the weak data rolling in as recently as earlier this year, citing poor housing starts and sluggish building permit numbers. Whatever…
This narrative is stuck on pessimism. So how do I know there's light at the end of the tunnel? Because according to the popular narrative, no one even wants to buy a home anymore. If that sounds contrarian, that's because it is. The popular narrative is almost always wrong.
"The American Dream is dead! Buying a home just isn't important to people anymore!" I've heard that so often my eyes are glazing over. And none of it's true.
Here's what a recent Quartz article wants you to believe:
"Until recently, Americans felt they had achieved financial success if they owned a home, could put their children through college, had secure and stable retirement income and had upward mobility. However, recent polls and surveys suggest that, for many Americans, homeownership is no longer a core component of the American Dream."
It goes on to cite a bunch of numbers trying to prove folks care more about having enough money to retire and helping their kids get through school without mortgage debt holding them back.
But these answers are just a reflection of the current demographics of the country: Swaths of boomers hastily approaching retirement are helping to get their young-adult children on their feet following a crippling recession.
Here's the thing that most people are missing: Demographic shifts will play a huge roll in housing. Millennials are entering family formation phase. This is the largest generation in U.S. history (yes, bigger than the baby boomers). Many are young and in apartments now. But they will eventually settle down and buy real estate. This time is not different.
In fact, it's already happening– 75% of Real Estate brokers surveyed by MKM Partners say first-time buyers finally came out to look at houses this spring. Keep in mind that first-time home buyers had previously sunk to their lowest level in 30 years. Now we're finally seeing an uptick.
And the crappy data? Yep, it's getting rosier. April construction spending rose 2.2% to a seasonally adjusted annual rate of $1.01 trillion, according to the U.S. Commerce Department. That smoked the estimates—and we even say March's wimpy numbers revised higher. Builders are building. And buyers are shopping for new homes.
Once again the charts are throwing sand in the eyes of the prevailing narrative…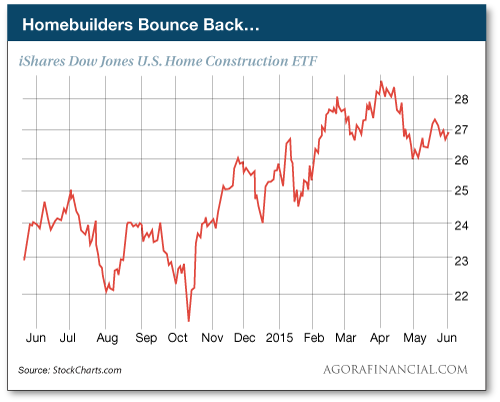 It's clear something changed late last year. The charts were whispering that a turnaround was in the works. And I've got news for you: If a disconnect develops between price action and trailing fundamentals, financial news, and popular opinion, something is in the works…
Regards,
Greg Guenthner
for The Daily Reckoning
P.S. Tune out the experts and buy housing stocks.  If you want to cash in on the biggest profits this market has to offer, sign up for my Rude Awakening e-letter, for FREE, right here. Stop missing out. Click here now to sign up for FREE.
The post Here's the Hated Trade that Could Double Your Money this Year appeared first on Daily Reckoning.