This post Here's How to Avoid the Newest Chinese Torture… appeared first on Daily Reckoning.
The Chinese are implementing a new form of torture…
And it's brutal. Forget the old Chinese water torture. This is worse.
Here's how it works: First, your captors make you buy Chinese stocks. Then they strap you to a board so you can't move. Then they wedge something between your eye sockets so you can't shut your eyes, and prop you up in front of a computer screen tracking the Shanghai Composite.
Then you have to watch helplessly in utter terror as the Chinese market crashes, and you lose every penny you have. You can't do a thing about it. You just shriek at the top of your lungs as you watch the market plunge further and further, taking all your money with it.  Soon enough, you're ready for the loony bin.
But that's no way to go, my friend. And today I'm going to try and save your mind from this vicious form of torture. But I have to warn you… it won't be pretty.
So let's get to it…
The Shanghai Composite dropped more than 8% Monday, marking the biggest one-day crash for Chinese stocks since 2007.
"Monday's retreat shattered the sense of calm that had fallen over mainland markets last week and raised questions over the viability of government efforts to prop up share prices as the economy slows," Bloomberg studiously reports.
That's nice. But let me give it to you straight…
That "sense of calm" Chinese officials tried to instill in the markets was nothing more than a mirage. The truth is you can't stop folks from panicking. If they want to sell, they'll find a reason (and a way) to do it. Even the most powerful party official can't stand up to a falling market.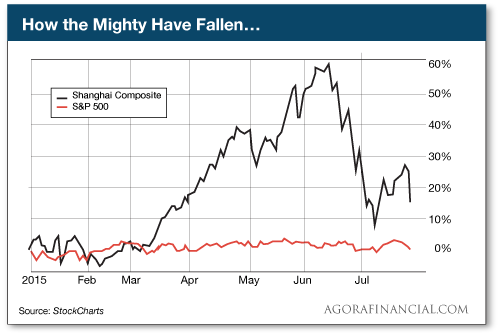 And some of this selling has found its way across the Pacific to our fine markets. The Chinese market is a flaming heap on the side of the highway, but U.S. stocks are sputtering along with smoke coming out from under the hood. We don't know how the China crash will ultimately play out here in the States. But right now, the "check engine" light is flashing for U.S. stocks.
They took yet another hit yesterday, marking the fifth straight day of declines for the major averages. Yes, the S&P 500 is still less than 3% from its all-time highs. But more and more leaks are springing up.
The major averages only suffered modest losses Monday, but nearly 75% of stocks ended the day lower. And that's a problem. As I've been saying for weeks now, the biggest theme for U.S. stocks has been the lack of participation when the market rallies. Fewer and fewer stocks are generating most of the market's gains.
And the market's loser list continues to grow. While big dogs like Google, Facebook, and Amazon have rocketed higher this month, the rest of the stocks on the market are nailed to the floor.
But before you run away screaming "sell," you should know that a correction — not an outright crash like we're seeing in China — wouldn't be so horrible for U.S. stocks at this stage of the game. Instead of a torturous, sideways grind, we might actually see a flush lower that shakes out weaker hands and hits the reset button on the countless stocks stuck in no-man's-land this year.
This morning, a relief rally is brewing. Futures are up before the morning bell—but we aren't sure if the move will stick or how long it will last. There are a ton of vulnerable looking stocks out there right now…
So today, your best bet is to cut your losers and hang tight. It's the only way to keep your sanity…
Greg Guenthner?
for The Daily Reckoning
P.S. Is that the sound of a bubble popping? If you want to cash in on the biggest profits this market has to offer, sign up for my Rude Awakening e-letter, for FREE, right here. Stop missing out. Click here now to sign up for FREE.
The post Here's How to Avoid the Newest Chinese Torture… appeared first on Daily Reckoning.