From Chris Vermeulen: Recent price action in the S&P 500 is flashing a warning sign that we may have reached a short-term top, and that there could be more selling ahead.
The market is extremely oversold and is not yet in the Trending Mode. Therefore, with no confirmed trend, and oversold momentum oscillators, the market should have and did in fact bounce back earlier this week, after Friday's massive decline. The SPX was in a Bollinger Band Squeeze for 5-6 weeks, but finally broke down, last Friday, September 9th, 2016. Every asset class was down. This is not a "buy the bounce" situation, however.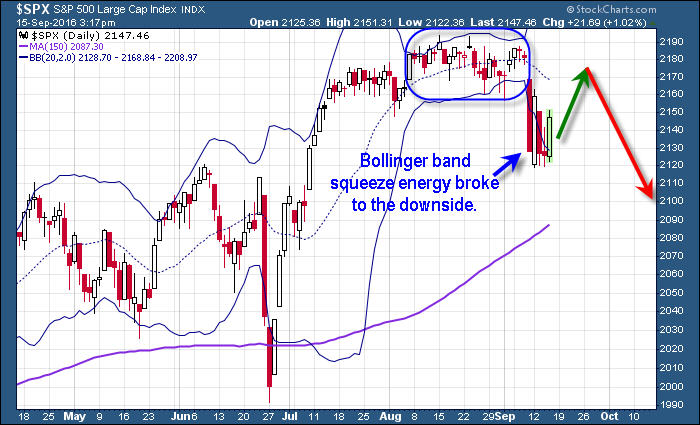 In the medium term, there should be a sizeable decline.
I would not use the next bounce back, if one does occur, to establish new long positions. I must view any bounce back instead as an opportunity to get out of stocks and prepare to go short. The markets' decline could be a long way to the downside.
However, the Expanding Top Pattern that the SPX has been forming for the past few months suggests that it could easily test the 1810 area. That low is over 350 points from its' current levels.
With a presidential election that is scheduled for November 8th, 2016, it is difficult for me to believe that the President's "Plunge Protection Team" or the FED will not step in so as to keep the markets from experiencing a dramatic plunge, before the said election. After the election, anything is indeed possible!
Friday, September 9th's decline was mostly driven by fear of a potential interest rate increase occurring in September of 2016. As GDP growth is at only 1.1%, I do not believe we will get a rate increase at the time of the next meeting. The FED realizes just how vulnerable the market is which is why there was talk of a rate increase, last Friday. If they have learned anything, after Fridays' decline, they will almost certainly keep silent, until after the election.
For the past few weeks, I have been speaking about how the upside potential for this market is limited and that the downside appears to be very profitable. I still believe this to be true, regardless if the market does indeed bounce back, this week.
However, I would still be cautious about getting short, too soon, despite Fridays' strong decline. Therefore, please be patient!
If the market does bounce back, this week, and the momentum oscillators become overbought, that is when I will start looking to put on a few shorts.
Over the next few days, I will carefully monitor the markets and keep a very close watch over them. If I do start to establish short positions, I will do so at higher levels.
The SPDR S&P 500 ETF Trust (NYSE:SPY) fell $2.02 (-0.94%) to $213.26 per share in premarket trading Friday. The largest fund tied to the benchmark S&P 500 index has risen 5.6% since the start of the year.
This article is brought to you courtesy of TheGoldAndOilGuy.com.
You are viewing an abbreviated republication of ETF Daily News content. You can find full ETF Daily News articles on (www.etfdailynews.com)
Powered by WPeMatico