This post Grab 20% In Two Months Or Less, As Dr. Copper Gets Well Again appeared first on Daily Reckoning.
Wanna make money on both sides of a trade? Thought so…
We made out like bandits betting against copper in the past. Now we're going to cash in betting on copper for a short-term rally. That's right– Dr. Copper's getting a second wind. And no one's paying attention.
Can't say that I blame them. This dog has been beaten to a pulp for years. Like I said, we've bet against copper a few times over the past 18 months. It was like stealing candy from a baby.
But something's different this time. The copper bears are capitulating. A stealth rally is in the works. And it could net you 20% gains in no time…
I told readers recently that Dr. Copper lost his degree thanks to pesky technological advances. Semiconductors, my friend Andrew Thrasher explained, had become a much more reliable indicator of economic health. After all, it's tech– not the industrial sector–that's fueling growth these days.
Copper's descent into oblivion is nothing new. It all started back in late November when Dr. Copper started acting loopy, dropping well below $3 for the first time since 2010. That capitulation move was essentially the previous decade's commodity boom unwinding.
From 2001 to 2011 the price of copper exploded more than 620%, topping out near $4.50. It's impossible to overstate the enormity of this rally. But that's ancient history now. The metal plunged below $2.50 earlier this year. Those were five-year lows. Brutal…
Here's the chart I showed you earlier this year as copper began falling apart at the seams: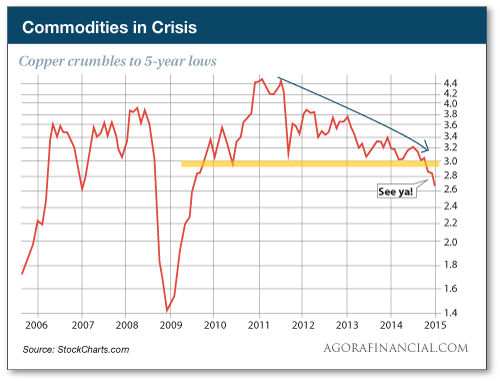 Plunges like this one come lightning-fast. For copper the elevator down accelerated after the metal lost the $3 mark. Sagging demand in China and Europe was the final nail–especially when you consider that China was responsible for a whopping 40% of the world's copper consumption recently.
We highlighted the psychological importance of the $3 level in copper prices many times. And for the past several years copper managed to recover every time it breached $3. Before its November breakdown copper snuck below $3 last March. But it rallied back above the $3 mark by April. No such luck last fall. The good doctor's medical license was revoked and copper dropped nearly 20% in just three months.
But this is where your opportunity comes into play today…
Look at how copper appears to have bottomed out last month: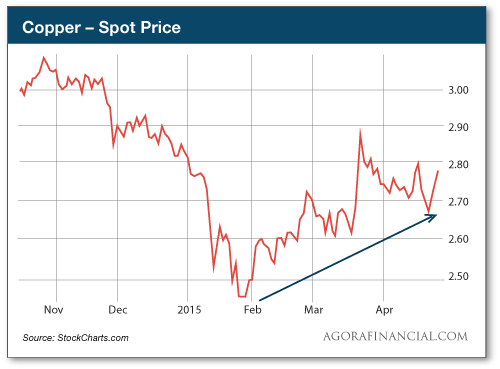 Copper dropped below $2.50 in late January on heavy trading volume. But buyers quickly stepped in. Now we're seeing the beginning stages of a potentially powerful comeback rally.
Now's the time to bet on a quick copper rally. You could easily net double-digit gains in a matter of weeks if this former loser starts cranking up the heat.
The best way for you to play it? Check out Freeport-McMoRan Inc. (NYSE: FCX). Freeport is a copper mining play that's showing signs of a strong breakout. Take a look: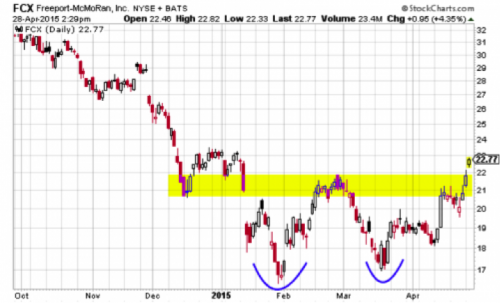 We booked close to 20% in just two weeks betting against Freeport back in December as the copper crash heated up. Now we're kissing and making up with this stock. And believe me, plenty of traders will be caught flat-footed as FCX rebounds. But it'll just add fuel to the rally when the Johnny-come-lately traders chase after it.
Buy FCX today and we'll try to ride a sharp move back toward $27. That would net you a quick 20%. Not too shabby.
With everyone fixated on stocks, you have the perfect opportunity to skim double-digits on this "hated" trade.
Greg Guenthner
for The Daily Reckoning
P.S. Ever wonder how you can make a lot of money from oil without owning a well? Or whether or not you should buy gold and silver? Or is fracking just a flash in the pan? Get insight, insider scoops and actionable investment tips twice a week with Daily Resource Hunter? Just click here for a FREE subscription!
The post Grab 20% In Two Months Or Less, As Dr. Copper Gets Well Again appeared first on Daily Reckoning.