From Chris Ciovacco: Many analysts keep trying to draw parallels between today's investing environment and those of the pre-crash dot-com and financial crisis eras, but fund flows tell a much different story.
"You Can't Lose Money On Tech Stocks"
If you have been involved with the markets for the last twenty years, you may recall hearing excessively-optimistic statements such as "you cannot lose money on internet stocks" in the late 1990s. Unfortunately, the excessive optimism was followed by painful losses in technology stocks, as well as the PowerShares QQQ Trust, Series 1 (ETF)(NASDAQ:QQQ) as a whole.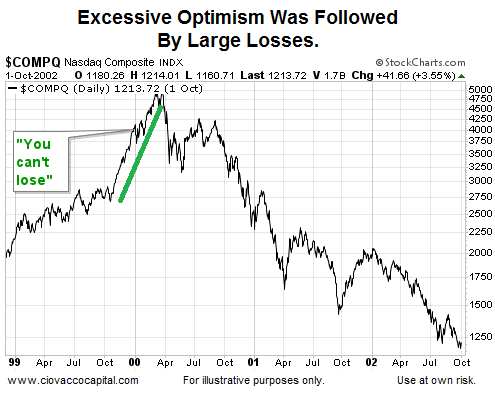 "Housing Has Changed The Markets"
Between 2004 and 2007, the excessive optimism was based on the theory that ever-increasing home values would allow for endless borrowing to fuel spending and investment.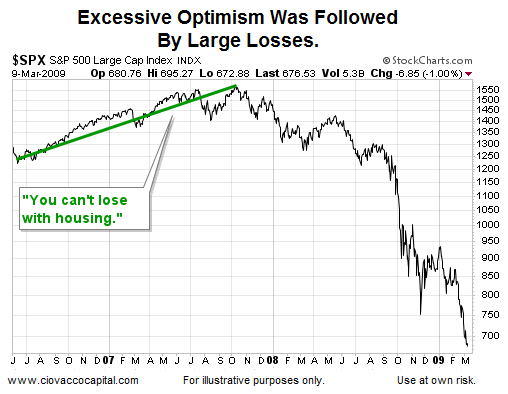 Flight To Safety As Markets Break Out
As outlined in detail on July 25, August 1, and August 3, the recent breakouts from long-term consolidation patterns by the three major U.S. stock indexes are typically very bullish signs. From afar, it may seem like investors are once again in excessive-optimism territory. However, given actions speak louder than words, if anything, investors may be excessively pessimistic in 2016. As shown via the @ukarlewitz tweet and Wall Street Journal graphic below, instead of piling into optimistic and growth-oriented stocks, investors have been piling into conservative and defensive-oriented bonds.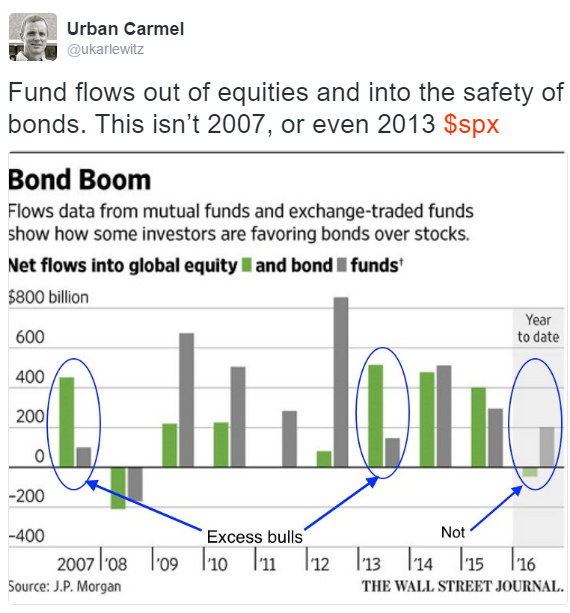 What Do The Facts Say About The Prospects For Stocks?
This week's video examines a rare bullish occurrence that historically has marked a good time to add to equity holdings, rather than reduce them. The video is based on objective data, allowing for a rational assessment of present day odds of good things happening vs. the odds of bad things happening. The results, from a probability perspective, do not support an overly defensive portfolio allocation looking out several months, or in many cases several years.
After you click play, use the button in the lower-right corner of the video player to view in
full-screen mode
. Hit Esc to exit full-screen mode.

Investment Implications – The Weight Of The Evidence
The term odds implies uncertainty. Therefore, we are always open to a shift in the weight of the evidence. Right now, the longer-term weight of the evidence remains favorable for risk-on stocks.
This article is brought to you courtesy of Ciovacco Capital.
You are viewing an abbreviated republication of ETF Daily News content. You can find full ETF Daily News articles on (www.etfdailynews.com)
Powered by WPeMatico