This post From Spain with Foreshadowing appeared first on Daily Reckoning.
"To recognize bullsh*t, your nose is more useful than your ear."
— Fitting context that popped up when we Googled "bull."
"It's a religious tradition," our colleague Sonja Lopez related this morning. She'd just returned from Pamplona, Spain, after running with the bulls. "The idea is if you believe in God, you will be protected. If you don't… you'll be gored."
All three major U.S. stock indexes are up this morning. The foreshadowing isn't lost on us…
"There's a strategy to it," Sonja continued. "You have to know when to enter and when to exit.
"It's not a game. The Spanish will tell you as much. You actually have to know what you're doing. It's the people running around you that you should be afraid of, too — more than the animals themselves. And they supposedly had the biggest and fastest bulls in history this year.
"Some Americans ended up getting gored."
Nearly 4,000 miles west of that, Janet Yellen began her fool's footrace on Capitol Hill where Spain's ended: the two-day hearing formerly known as Humphrey-Hawkins. Much like the Pamplona spectacle, there's an old trader's tale that if you believe in the chair, you'll be spared. Doubt her and you'll get a horn in your ass, so to speak.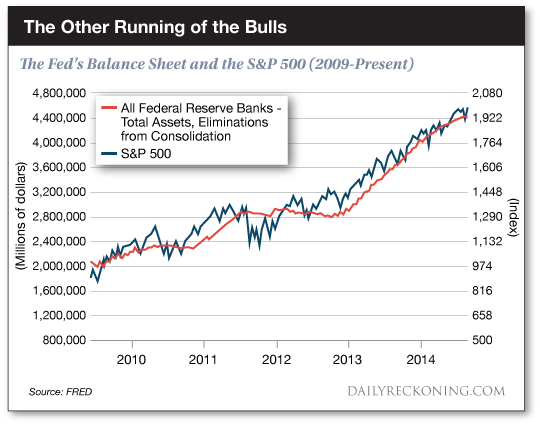 Yellen spun her tale to Congress ex cathedra this morning for true believers who'd listen. We did, but only so you don't have to:
"If the economy evolves as we expect, economic conditions likely would make it appropriate at some point this year to raise the federal funds rate target, thereby beginning to normalize the stance of monetary policy…
"If we wait longer, it certainly could mean that when we begin to raise rates, we might have to do so more rapidly. An advantage to beginning a little bit earlier is that we might have a more gradual path of rate increases."
Besides her word that rates will go up, we see mortgage, credit card and auto loan credit all became easier for consumers to get in June. Producer prices, a leading indicator of consumer inflation, went up too. Jobless claims improved last week as well, while homebuilders' confidence — however that's measured and interpreted — supposedly firmed. All signals that Yellen may indeed increase rates.
And yet, like Bono said, "She moves in mysterious ways."
Caveat emptor.
"The Fed is flying blind with flawed forecasting tools and backward-looking data," colleague Jim Rickards wrote in these pages on April 28. "This leads to two possible outcomes…
"Scenario A is that the Fed sees the weak economic signals before they raise rates. In that case, they will not raise rates in 2015 and may even go back to QE in early 2016. Stock markets might maintain momentum and even reach slightly higher levels as continued ease offsets the drag from deflation and weak growth.
"Scenario B is that the Fed overestimates growth based on their flawed models and relies on the employment data while ignoring other danger signs. In that case, they might raise interest rates in September or December of this year.
"Stock markets around the world could crash as liquidity dries up. Emerging markets would suffer the most because of a stronger U.S. dollar combined with a global dollar shortage. But U.S. markets would not be immune from this misguided and premature tightening."
Jim recommends employing a "barbell strategy" including: gold, cash, bonds, select stocks, fine art, raw land and some alternatives in strategies like global macro hedge funds and venture capital.
That advice's better taken sooner rather than later, too. By definition, the longer the bull market, the less time it has left. This one's 76 months old, the third longest in history. If not, at least put your money down aware that if you slap the bull on the ass, you deserve whatever comes to you.
That said, a new acquaintance of ours, a Professor Robert Johnson, president of the American College of Financial Services, thinks you can use the market's odds in your portfolio's favor. Johnson is the author of a new book called Invest with the Fed: Maximizing Portfolio Performance by Following Federal Reserve Policy, which landed on my desk in April. We recommend you grab a copy.
"I was a finance academic," Johnson told me, explaining how the book came about. "I was also a money manager and a Fed watcher. I was convinced that the Fed has a tremendous influence on the financial markets. For context, this was in the late '80s.
"It was before the fixation on Alan Greenspan uttering the term 'irrational exuberance' and having the markets collapse and so forth. This was before the Fed was front-page news. In fact, the Fed was barely in the financial news at that time. I was convinced that the Fed had a significant influence on capital market returns."
As you'd expect a good academic to do, Johnson decided to study the Fed's impact on investment returns in a rigorous fashion. He's been doing that now for the last quarter of a century.
Invest with the Fed, he explained, is a "culmination of all of that research updated. I think the astute individual investor will get some tremendous insights about what the Fed's influence on their returns is and how they can monitor Fed actions to hopefully increase portfolio returns or reduce their risk."
Click here to read a transcript of our conversation.
Regards,
Peter Coyne
for The Daily Reckoning
P.S. Be sure to sign up for The Daily Reckoning — a free and entertaining look at the world of finance and politics. The articles you find here on our website are only a snippet of what you receive in The Daily Reckoning email edition. Click here now to sign up for FREE to see what you're missing.
The post From Spain with Foreshadowing appeared first on Daily Reckoning.