From Chris Ciovacco: Stocks have rallied this year despite negative earnings growth, and that will need to change soon.
Markets Move On Shifts At The Margin
Markets are constantly monitoring and assessing data on numerous fronts (earnings, interest rates, debt, etc.). Market prices are determined by facts in hand and expectations about future outcomes related to each data set. Therefore, changes at the margins of the data sets tend to be what move markets.
Earnings: Weak With A Possible Silver Lining
If you were told corporate earnings were on track to decline for five or six consecutive quarters, you would not guess the S&P 500 would be breaking out to new highs (as it did earlier this month). Earnings season for the current quarter remains a work in progress, however some marginal trends are emerging. From CBS Moneywatch:
And as is typical, the results have been coming in ahead of expectations: 68 percent of S&P 500 companies reporting to date have beaten their consensus earnings estimates. But the results haven't been good enough to end the ongoing corporate earnings recession, now in its fifth consecutive quarter. And what's worse, early indications are that blended S&P 500 earnings are now set to decline in the third quarter as well.
The Shift At The Margin Shows Some Improvement
If the economy is heading for a recession, which may or may not be the case, we would expect earnings to be getting worse. Earnings growth is still ugly on a year-over-year basis, but the recent trend is showing some marginal improvement, rather than deterioration. From CBS Moneywatch:
Overall, FactSet analysts note that the expected second-quarter S&P 500 earnings decline stands at -3.7 percent, an improvement from the -5.5 percent decline they expected last week and at the second quarter's end. Yet, even factoring in the typical improvement in average earnings growth during an earnings season, they believe it's likely the quarter will end with an outright decline in profitability on a year-over-year basis. Third-quarter earnings expectations have now fallen into negative territory as well — suggesting the earnings recession could stretch to six consecutive quarters.
Hypothetical Example – Earnings
A year-over-year earnings decline of 3.7% does not sound good, but it shows marginal improvement relative to last quarter's decline of 6.5%.
To illustrate the concept of marginal shifts in data sets, we can take a look at earnings growth over the next three quarters. The blue areas below show the data we have in hand today (knowns). The red and green areas show two very different and hypothetical paths for earnings growth for the coming quarters (unknowns).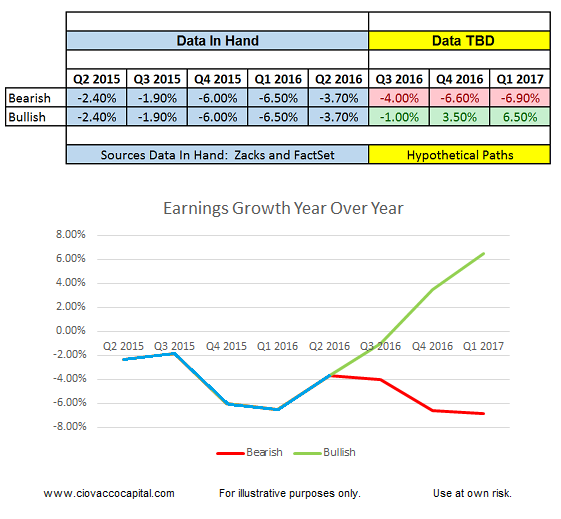 It seems obvious to say "if earnings improve, it will be a positive for stocks". What is not so obvious in the short run is that "if earnings growth is negative, but not as bad as the previous quarter, that represents incremental improvement". Earnings declined by 6.5% in Q1 2016, which is quite a bit worse than the current decline of 3.7%. The 3.7% is not etched in stone since earnings season is not over yet, but odds say this quarter's decline will be smaller in magnitude relative to last quarter's.
Example: Marginal Shift In Rate Expectations
A recent example of markets reacting to a marginal shift in expectations was the Fed's dovish about face between January and June 2016 (see headlines below).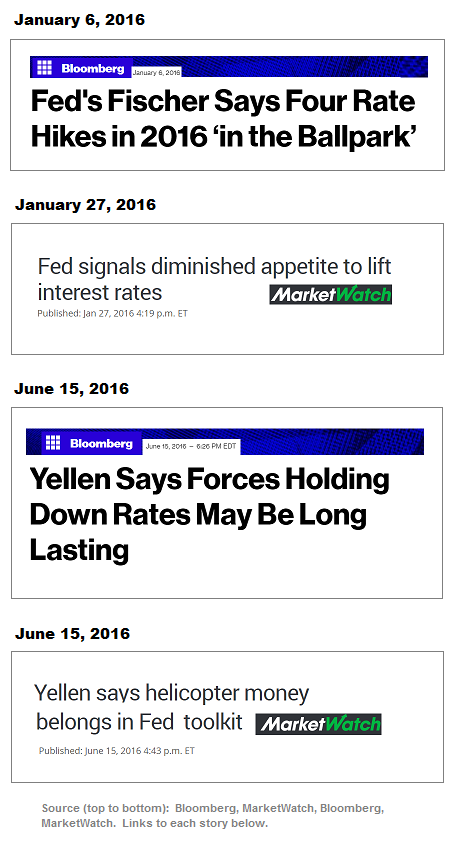 When the Fed backed off their multiple rate hikes script, markets adjusted. Keep in mind, the Fed did not say they are on the cusp of adding new liquidity to the financial system; they simply said they planned to drain less liquidity than the market expected, which represented a marginal shift in liquidity/interest rate expectations. A similar shift will occur with corporate earnings; the question is will the shift be in the marginal "getting better" or "getting worse" camp.
Time And The Margins Will Tell
If the new information at the margin follows the green or bullish path below, it will help explain why the S&P 500 was able to break out to new highs. Conversely, if the market's marginal new data follows the red or bearish path below, it is likely the recent push to new highs in stocks will revert back to the "failed breakout" category. Time, the charts, and the data will tell.
Other Marginal Data Sets
The recent breakouts by bonds (TLT), stocks (SPY), and gold (GLD) tell us quite a bit about current expectations regarding a wide range of potentially market moving data sets, as outlined in detail on July 22.
The SPDR S&P 500 ETF Trust (NYSE:SPY) rose $0.30 (+0.14%) to $217.05 in premarket trading Wednesday. The SPY has gained 6.32% year-to-date.
This article brought to you courtesy of Ciovacco Capital.
You are viewing an abbreviated republication of ETF Daily News content. You can find full ETF Daily News articles on (www.etfdailynews.com)
Powered by WPeMatico