When factoring in currency translation effects, many overseas investors buying safe haven U.S. bonds are already seeing negative yields — which could in turn erode demand for Treasuries.
From Bloomberg:
Last month, yields on U.S. 10-year notes turned negative for Japanese buyers who pay to eliminate currency fluctuations from their returns, something that hasn't happened since the financial crisis. It's even worse for euro-based investors, who are locking in sub-zero returns on Treasuries for the first time in history.

…

That quirk means the longstanding notion of the U.S. as a respite from negative yields in Japan and Europe is little more than an illusion. With everyone from Jeffrey Gundlach to Bill Gross warning of a bubble in bonds, it could ultimately upend the record foreign demand for Treasuries, which has underpinned their seemingly unstoppable gains in recent years.
The phenomenon of negative Treasury yields has spread to Europe as well. With negative rates on local bonds pervasive throughout the EU, investors there have flocked to higher-yielding U.S. bonds. But with the dollar gaining strength, European banks are charging investors more to swap their currency into dollars. Those tougher terms have slashed the total return of U.S. bonds below zero: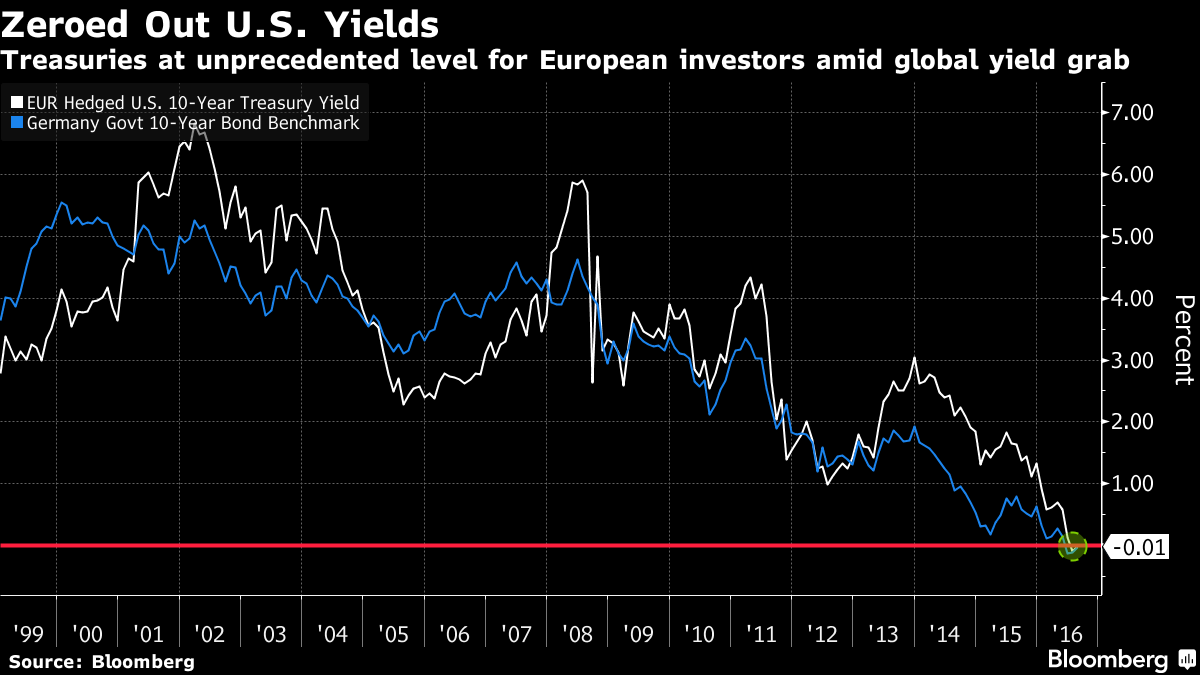 Chart: Bloomberg
It's clear that international investors are quickly running out of any sort of yield advantage to buying U.S. Treasuries, as the gap closes between their local (many times negative) rates and the total return of U.S. bonds when factoring in currency hedges. This phenomenon could soon lead to lower demand for U.S. bonds, and finally put an end to Treasuries' massive seven-year-long rally.
The iShares Barclays 20+ Year Treasury Bond ETF (NASDAQ:TLT) rose $0.29 (+0.21%) to $138.55 per share in premarket trading Tuesday. The TLT, which moves inversely to bond yields, has gained 14.66% year-to-date.
You are viewing an abbreviated republication of ETF Daily News content. You can find full ETF Daily News articles on (www.etfdailynews.com)
Powered by WPeMatico