A pair of veteran economists — including a former 33-year member of the St. Louis Fed — are pointing to a scary graph that could signal an impending market crash.
Daniel Thornton and Joe Carson are worried. Why? Because of the fact that U.S. wealth has ballooned so much that it's outpaced actual economic growth by a wide margin. Presenting this graph, courtesy of Bloomberg: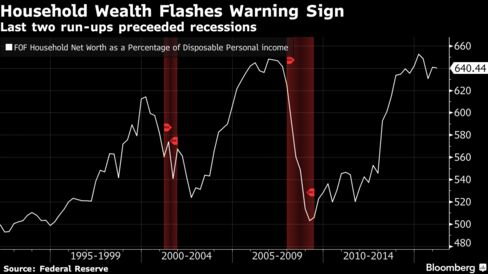 Since the recession ended in 2009, household wealth has rebounded to pre-housing crisis levels once again. Things are looking really good. Too good, in fact, which always makes economists uneasy.
As you can see in the graph, a peak in household wealth has preceded the last two major recessions (and accompanying stock market crashes). The real problem this time around is that wealth has been driven mostly by stock market gains and an improvement in home prices, not by actual economic growth.
Most importantly, Carson notes that "the financial cycle is way ahead of the economic cycle."
Dow Jones Near All-Time Highs
Meanwhile, the U.S. stock market, as measured by the SPDR Dow Jones Industrial Average ETF (NYSE:DIA), has never been better. The DIA, which has gained 6.6% year-to-date, closed at $185.51 on Friday, up another $0.49 (+0.26%).
There's no telling when exactly stocks will pull back, of course. But signs are mounting that the next recession — and accompanying crash — could come sooner rather than later.
You are viewing an abbreviated republication of ETF Daily News content. You can find full ETF Daily News articles on (www.etfdailynews.com)
Powered by WPeMatico