Jack Delaney: Facebook Inc (NASDAQ:FB) stock is up 17.6% over the past year, currently trading around $92 per share.
Now key acquisitions suggest FB's stock price climb – and revenue rise – is still far from over.
You see, analysts fear that fleeing younger users would hurt the Facebook Inc. (Nasdaq: FB) stock price. The digital agency iStrategy Labs released data showing that from 2011-2014, Facebook saw a 25.3% decline of users aged 13-17. FB also saw a 7.5% decline of users aged 18-24 in that same time frame.
But to understand Facebook's climbing stock price, investors need to look past the actual platform. It's now much bigger than monthly active users and new signups to CEO Mark Zuckerberg's dorm-room creation.
Zuckerberg is proving his ability to anticipate new avenues for monetization and growth.
That's why there are now three big reasons to seriously consider adding FB stock to your portfolio: WhatsApp, Instagram, and growing ad revenue through emerging foreign markets.
How the Facebook Stock Price Will Climb Higher
Even if younger social media users are bypassing FB, Zuckerberg found a way to keep them from straying too far…
While Facebook may be closing in on maturity, its acquired sites are still enjoying healthy user growth numbers.
WhatsApp is a platform that allows for mobile messages across different phones without charging an SMS fee.
From April to September, WhatsApp saw an 11%, or 100 million, increase in new monthly active users (MAUs). As Money Morning highlighted Sept. 14, WhatsApp now reports a total of 900 million monthly active users.
Instagram operates as a social media platform that only allows you to upload photos through a mobile phone or tablet. It has 400 million MAUs, according to its website on Sept. 24. That is more than Twitter's 316 million (claimed on its own website).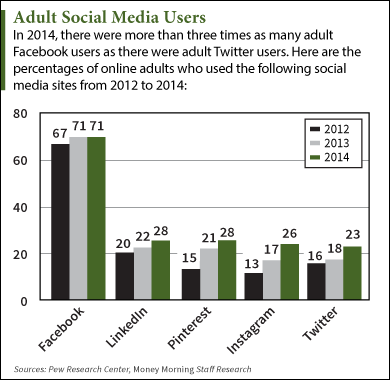 These MAUs are key because they will be the targets of Facebook's big revenue driver: mobile ads.
How much revenue could FB generate from the mobile market?
Zuckerberg identified mobile technology becoming the norm rather than a trend in April of 2012, with his then highly criticized purchase of Instagram for $1 billion. Mobile ads accounted for 76% of Facebook's $3.8 billion second-quarter advertising revenue in 2015. Mobile advertising revenue was also up 43% year over year for FB in Q2.
EMarketer, an independent research company, estimated that Instagram will collect $600 million in ad sales in 2015. By 2017, revenue could reach into the billions.
WhatsApp will eventually serve as another stream of mobile ad revenue, which Zuckerberg stated could be monetized in several ways in the last quarterly earnings call – but did not give specifics.
Facebook's Growing Presence in Emerging Markets
According to digital marketing tips and stat provider DMR, Facebook only has an 8.2% penetration in India, but boasts 102 million users there. These numbers indicate that FB can still extend its reach into emerging markets.