Previous Guests
Click here to listen to previous episodes.
About Chen Lin
Author "What is Chen Buying? What is Chen Selling?" Chen grew $5,400 to $2.3 million in 10 years. Learn More
Explaining Palladium's Massive Plunge
From The Gold Report: Palladium took a dive this week, and Chen Lin, author of the popular newsletter What Is Chen Buying, What Is Chen Selling?, explains what happened and how investors can profit from the drop.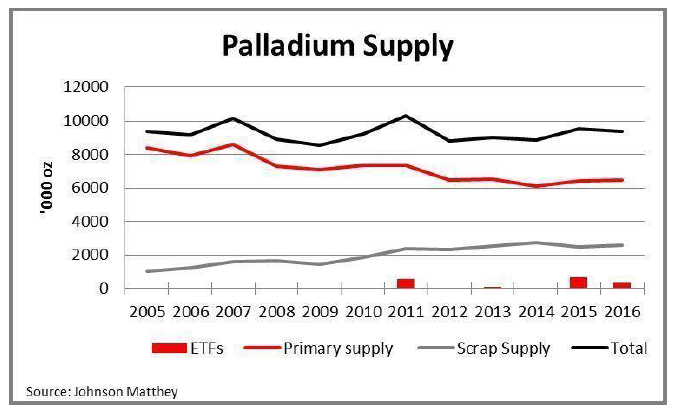 This is President Trump's first week in office and a huge week for the stock market. However, not many noticed the palladium futures market experienced the "violent, stunning, historic collapse," according to the well-known market commentator Dennis Gartman, the "commodity king." Let's drill down to exactly what happened.
On Dec. 23, 2016, under tremendous public pressure, the Chinese government announced that by July 1, 2020, all vehicles in the Chinese market will have to comply to the tough China VI/China 6 standard, basically equivalent to the current U.S. and E.U. standards. It was barely noticed in the West because of the Christmas holiday. But it was a big one in China, especially in the Chinese social media. I could hear the cheers of Chinese citizens all the way in the U.S.!
China is facing a severe pollution problem, especially in the northern regions. There are studies pointing to car emission as one of the major sources of pollution. However, the Chinese government has been reluctant to implement tougher car emission standards. One of the key reasons, I was told by various Chinese sources, is that the world will not have enough palladium supply for China if China implements U.S. or E.U. style emission standards!
Let's look at the supply demands in the palladium market (see chart above). You can see mining supply (primary supply) has been down for many years thanks to the underinvestment in South Africa, the main supplier of platinum and palladium.
As a matter of fact, if there was not heavy ETF redemption in the past two years, palladium couldn't have reached the supply-demand balance!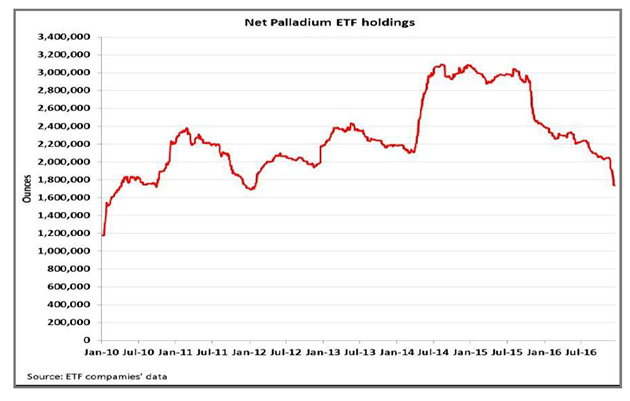 We saw heavy ETF redemptions in the past two years to meet the strong demand. The net ETF holdings were almost cut in half from the 3 million ounce (3 Moz) peak in 2014 to close to 1.5 Moz by the end of 2016.
How about the Russian stockpile of palladium? It is gone. According to the recent Scotia Bank report on palladium, "Between 2004 and 2010, Russian sales from stockpiles averaged 1.2 Moz per annum. They dropped to 0.78 Moz in 2011, 0.26 Moz in 2012 and 0.10 Moz in 2013 and appear to have since dried up, with the view being that surplus stocks have been depleted."
Here is the key question: If Chinese demand of palladium picks up in the next few years, where will the extra palladium come from?
The Chinese automobile industry consumed about 2 Moz of palladium in 2016, out of an estimated 9.5 Moz in global total supplies, up about 20% from 2015 and has been going up 10–20% annually for the past 10 years, according to the Scotia report. If we assume 10% growth in the next four years, China will demand about 3 Moz of palladium in 2020. With the recent new requirements in China, we can predict that 3 Moz by 2020 may be very conservative. What if China demands 3.5 Moz per year or 4 Moz per year? ETF inventory is already down to 1.5 Moz after 600–700 Koz per year outflow. This is not sustainable. Where do you find the extra palladium? That's why I see a potential huge spike in the palladium price similar to what we experienced in 2001, when palladium was trading at a huge premium to platinum and gold.
Here is a potential explanation of what happened in the palladium market recently: During December of 2016, a group of Chinese traders, likely very knowledgeable of the Chinese government's forthcoming regulation, accumulated a large position of palladium for $650–700/oz. When the news hit the wire, palladium exploded all the way to $800/oz earlier this week. This weekend is the Chinese New Year and the Chinese market will be closed for a week. Some traders wished to lock in profits ahead of the holiday and $800 is a historically strong resistance for palladium. This triggered an avalanche of selling and most stop orders were taken out because traders had so much profit to protect.
What's going to happen next? I view this complete washout as an excellent opportunity for investors to accumulate palladium positions. As I discussed, I believe the chance of a spike in the palladium price in the next few years is very high. You can hold a leverage future position or physical ETFs like ETFS Physical Palladium Shares (PALL) and Sprott Physical Platinum and Palladium Trust (SPPP). Remember, if the palladium shortage happens, the futures market may or may not be able to deliver the physical metal, so a physical ETF or physical metal is preferred.
I also invested in the miners. Platinum Group Metals Ltd. (PTM:TSX; PLG:NYSE.MKT) did a raise recently and the stock is close to a 52-week low. The company is ramping up the Maseve mine in South Africa and is scheduled to reach commercial production in a few months, so the timing is perfect. It also owns a giant mine called Waterberg in South Africa. I hope when the company reaches cash flow positive, the market will wake up to its potential, just like what happened to Ivanhoe Mines Ltd. (IVN:TSX) in the past year, which owns a big PGM deposit not far from PLG.
In conclusion, if you believe in the Trump rally, believe in the recent rally in base metals, then palladium probably has the best supply-demand picture of any commodity: copper, zinc, oil, corn, uranium, you name it. The supply deficit projected in 2020 is likely 20% or more. We need a lot of new mines to be built in a hurry! I believe the recent big selloff in palladium creates a great opportunity for investors who are seeking to increase palladium and platinum (which can be substituted for palladium) exposure. When palladium makes these kinds of historic moves, margin calls usually follow in the next few days. It can be very volatile. However, a huge washout usually creates a solid bottom to move higher. I call investors' attention to this special situation and the potential to profit from it.
The ETFS Physical Palladium Shares (NYSE:PALL) closed at $70.57 on Friday, up $1.14 (+1.64%). Year-to-date, PALL has gained 8.22%, versus a 2.43% rise in the benchmark S&P 500 index during the same period.
PALL currently has an ETF Daily News SMART Grade of B (Buy), and is ranked #9 of 32 ETFs in the Precious Metals ETFs category.
---
This article is brought to you courtesy of The Gold Report.
You are viewing an abbreviated republication of ETF Daily News content. You can find full ETF Daily News articles on (www.etfdailynews.com)
Powered by WPeMatico