Chris Ciovacco:   As we noted in a recent "recession odds" article, bear markets typically are caused by one of two things: a recession or tight monetary conditions.
For example, the 2000-2002 bear market featured a rough economic period in 2001 (see table below).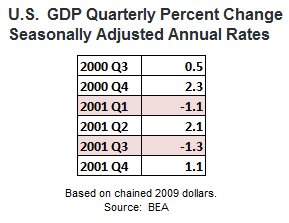 The chart below shows a period in 2001 that featured a 27% drop in the S&P 500, which even in isolation crossed the widely accepted 20% threshold defining a bear market.
The big drop occurred during the period of weak economic growth as shown in the table above.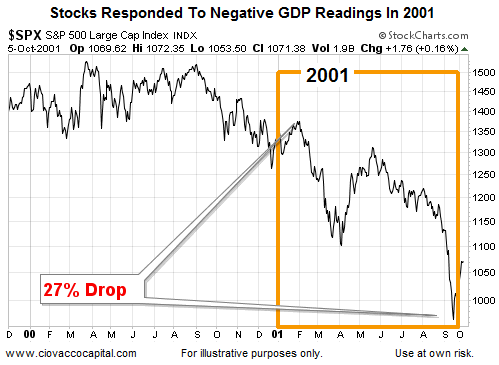 2001 vs. 2008 vs. 2015: Another Perspective
This week's video makes additional fact-based comparisons of the present day to both 2001 and 2008, allowing us to better understand correction odds relative to bear market odds.
After you click play, use the button in the lower-right corner of the video player to view in full-screen mode. Hit Esc to exit full-screen mode.

How About 2008-2009 And Economic Growth?
Stocks did not drop like a lead balloon for no reason during the financial crisis.
The economy experienced a significant contraction (see table below).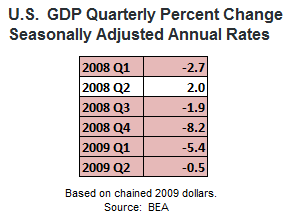 The vast majority of the losses in stocks during the financial crisis occurred during the window marked by negative GDP.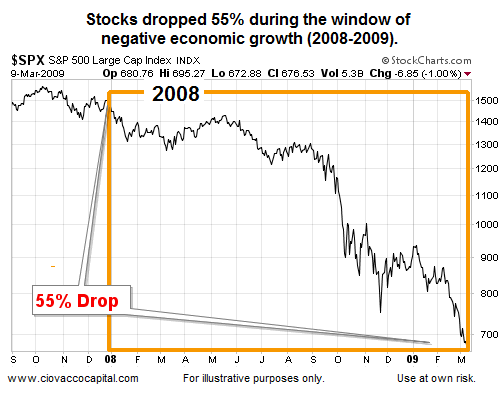 How Does The Same GDP Table Look In 2015?
Respecting that economic forecasting is difficult at best and negative growth could be around the corner, the facts we have in hand look quite a bit better than those during the "plunge periods in stocks" shown above (2001, 2008-2009).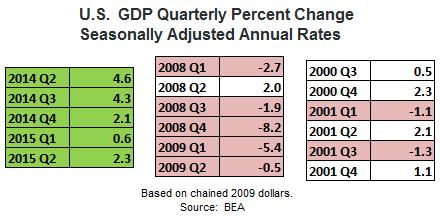 Odds Of A Recession: August 10, 2015
The Federal Reserve Bank Of Atlanta has done a good job with the difficult task of forecasting economic growth recently.
While the Atlanta Fed is forecasting a tepid GDP figure of 0.7% growth in Q3, their GDP-Based Recession Indicator Index is not screaming "run for the stock market and economic exits".