This post Dreaming of Being Lakeside in the Rockies appeared first on Daily Reckoning.
There is nothing quite as luxurious when it comes to getting lost in national forests and America's remarkable parks as a tiny, easy-to-pull travel trailer. Most, however, are plastic and flimsy, and somehow, in your heart, you know they are destined for a landfill sooner rather than later. That's what has made Airstream trailers, for example, so desirable. Billed as land yachts rather than travel trailers, they combine classic beauty, aluminum shells, good fit and finish and versatility.
The Teardrop is retro yet modern, sleek yet roomy, light yet stable, and made safer with electric brakes.
The only problems are they're really expensive and they're pretty heavy, requiring something bigger than the family Subaru to pull them. The smallest Airstream, the 16-foot-long Sport, starts at $42,000, has a hitch load of 350 pounds and weighs in at about 3,000 pounds. Needing a truck or heavy duty SUV to pull such a mini-trailer defeats the whole idea of treading somewhat lightly into nature.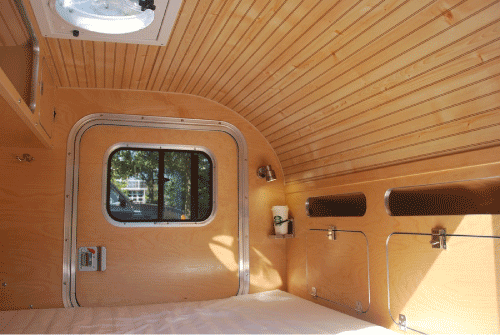 The interior is fitted like good furniture of birch plywood, surrounding a full-size queen bed.
That's why I'm so impressed with a new startup company in Portland, Oregon, called High Camp that's building a beautiful, tiny, light, efficient and somewhat luxurious camping trailer called the Teardrop.
In a retro style harking back to the 1940s (it even has fenders), the Teardrop is built around a queen-size bed of 60"x84" (the Airstream Sport, by example, has a bed that's a full foot narrower: 48"x78"). Like the older Airstreams, the interior of the Teardrop is all wood — 3/4" furniture-grade birch ply. Inside, the trailer is simplicity itself — a bed and storage. The rumble-seat-like back of the trailer has a galley with stainless cooler, stainless three-burner stove and decent storage.
There are several important factors that make the Teardrop special. First, it's light, weighing in at about 1,250 pounds without gear and a full gas bottle and with a hitch tongue weight of 165 pounds, which allows it to be pulled behind many cars and small SUVs. Second, it has extraordinary roominess for a basic trailer, with two huge entry doors and 40 inches of headroom above the mattress. Third, the quality of finish, between the aluminum shell and the furniture-like interior, will bring great pride of ownership and longevity. Fourth, it comes standard with electric brakes, making it far safer than many trailers this small. Fifth, it's narrower by a foot than most such trailers, at 7 feet instead of 8 feet, making it safer and easier to maneuver. Sixth, the wood used has a formaldehyde-free core and is finished without using volatile compounds, so you won't tempt long-term cancers breathing inside a Teardrop. And finally, it's only $14,900 and comes with extras for which most trailer companies charge extra.
But here's what it doesn't have: a water system, a toilet, a sink, a shower, standing headroom and a place to sit. You're hauling around a bedroom and a chuck wagon kitchen instead of a tiny house. The company offers a portable water heating system and a shower tent as an accessory. I'd consider those essential. It also offers, for very little money, two other essential accessories — a canopy that goes over the galley, which will keep you protected from rain, and an aluminum fold-up table that serves as extra counter space and for dining.
High-quality, reasonably priced, well-designed, light-footprint products like this are rare. There is also beauty in its simplicity and lack of complications like water systems. It never needs to be winterized, for example. This is a go-almost-anywhere-on-a-moment's-notice vehicle that you can discretely keep under its custom cover and latch onto the family car in a matter of minutes.
Spontaneity and quality have value.
To your health and wealth,
Stephen L. Petranek
for The Daily Reckoning
The post Dreaming of Being Lakeside in the Rockies appeared first on Daily Reckoning.