From Chris Ciovacco: With Fed Day looming, the Dow Jones may need to retest its yearly lows in the short term, prior breaking back out to the upside further down the road.
The 1994 case demonstrates the longer stocks go sideways, the bigger the move we can expect after a successful breakout. However, even under the successful breakout scenario, a retest of prior resistance may be in the cards, which is exactly what happened in early 1995. In 2016, the Dow Jones Industrial Average (below) may be in retest mode.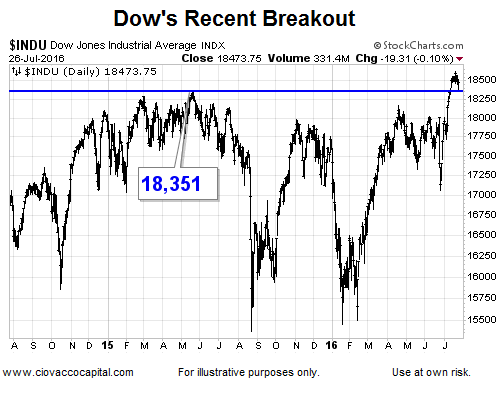 Reflation Trade
Given the high levels of global debt, the lesser of the evils alternative typically is to try to inflate it away. The chart below, showing the performance of materials stocks (XLB) relative to Treasuries (TLT), is one way to monitor the battle between inflation and lingering concerns about deflation.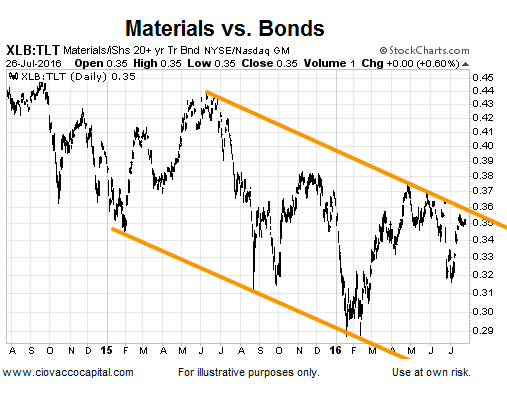 Like the XLB/TLT ratio above, the ratio of energy stocks (XLE) to Treasuries (TLT) also has some work to do. With a Fed statement coming Wednesday and one from the Bank of Japan before the end of the week, these ratios should provide some insight into the market's reaction.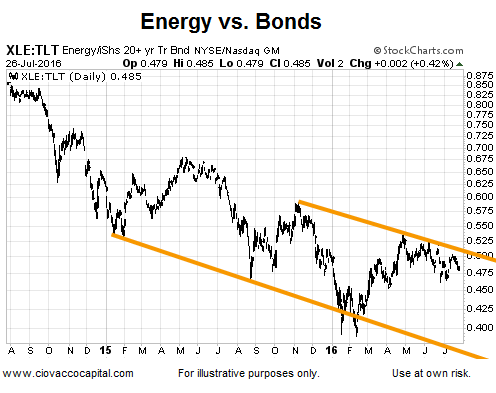 Stocks vs. Bonds
The S&P 500 (SPY) has not yet broken out relative to long-term Treasuries, but has made some progress relative to intermediate-term Treasuries (IEF). If the SPY/IEF breakout below holds, it will improve the odds of the S&P 500's recent push above 2,134 holding.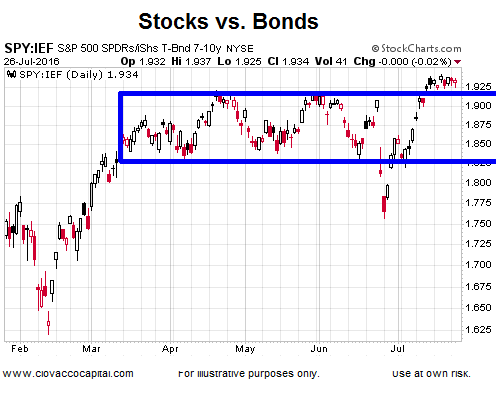 The SPDR Dow Jones Industrial Average ETF (NYSE:DIA) rose $0.55 (+0.30%) in Wednesday morning trading to $185.15 per share. DIA, which is the most popular way for investors to go long the Dow, has gained about 6.4% year-to-date.
You are viewing an abbreviated republication of ETF Daily News content. You can find full ETF Daily News articles on (www.etfdailynews.com)
Powered by WPeMatico