This post Do Elephants Possess the Secret to Cancer? appeared first on Daily Reckoning.
Elephants defy much of Mother Nature's plan. As a general rule, the larger an animal, the less long it lives. A Great Dane has about half the lifespan of a dachshund, for example. But elephants live a very long time — often 60 years or more. An elephant has 100 times as many cells as a human, dramatically increasing the chance one of them could go haywire and form a disease.
One of the reasons for elephant longevity is that they don't often contract one of the diseases of aging that take out humans — cancer. Until last month when the Journal of the American Medical Association published a study about elephants and cancer, no one knew why.
It took the curiosity of a pediatric oncologist at the University of Utah's Huntsman Cancer Institute to figure out that elephants have 20 times as many copies of a gene that causes the production of P53, a protein that monitors cell mutation and stops tumors cold. Almost all cancers are found to have mutations of the P53 gene. Humans have only two copies of it in their DNA, but elephants have 40. People with only one copy of the gene have a 90% probability of contracting cancer.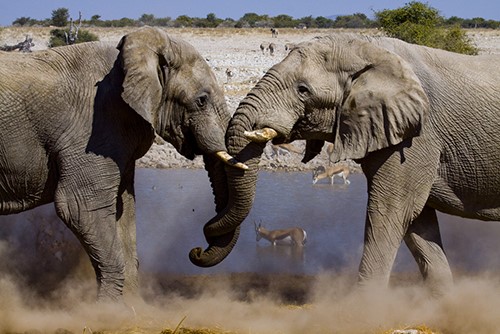 Elephants face few threats in their environment except humans and unlike humans have a genetic makeup that is five times as effective at preventing cancers from forming.
It took Dr. Joshua Schiffman, lead author of the study, a number of years to figure that out by working with the Ringling Bros. Center for Elephant Conservation and Salt Lake City's Hogle Zoo. "Nature has already figured out how to prevent cancer. It's up to us to learn how different animals tackle the problem so we can adapt those strategies to prevent cancer in people," Schiffman said.
His team found that elephants have about a 5% chance of getting a cancer in a lifetime. For humans, that number is 25%.
In the study, he took white blood cells taken from blood drawn during elephant checkups and then pummeled the cells with procedures that damage DNA in order to try to create cancers. But when elephant cells were damaged, they did something that P53 makes them do: They killed themselves, a process called apoptosis.
"It's as if the elephants said, 'It's so important that we don't get cancer, we're going to kill this cell and start over fresh,'" Schiffman said. "If you kill the damaged cell, it's gone, and it can't turn into cancer. This may be more effective of an approach to cancer prevention than trying to stop a mutated cell from dividing and not being able to completely repair itself."
Schiffman said he plans to capitalize on the research to create novel ways to attack cancers. Do I sense a biotech startup? Stay tuned.
To your health and wealth,
Stephen Petranek
for The Daily Reckoning
Ed. Note: Get the top investment trends for 2015 in medicine and technology from the former head of the most popular science magazine in the world. Simply sign up for our Tomorrow in Review e-letter for FREE right here. Don't miss out. Click here now to sign up for FREE.
The post Do Elephants Possess the Secret to Cancer? appeared first on Daily Reckoning.