Peter Krauth: Commodities have been in a downtrend since 2011. All commodities are priced in U.S. dollars, and a strong dollar has acted as a headwind.
But when a sector is out of favor, that's often the best time to get in on it. And a commodity ETF is a great option here.
Signs right now point to a possible bottom and reversal in commodities. Here's a look at where commodities prices are headed, plus a commodity ETF to buy to profit from the sector's rebound…
CRB Index Points to Rising Commodities Prices
One of the most widely followed commodities indexes is the Thomson Reuters/Jefferies Commodity Research Bureau (CRB) Index. Let's look at the index's performance in recent years.
As the chart below shows, CRB has fallen roughly 34% in the last four years.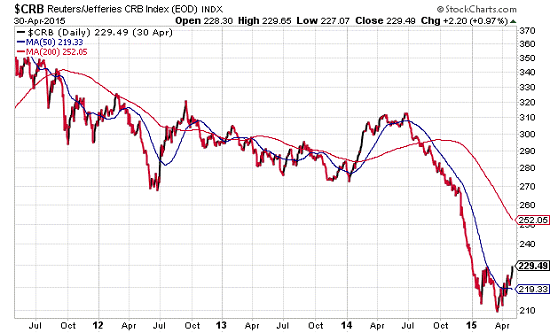 What looks like a capitulation sell-off began in December 2014 and continued into late January. Then the CRB Index hit a double bottom in mid-March.
But today, the outlook is much different. As the U.S. dollar has weakened, the CRB has staged a rally.
To get in on that rally, here's a commodity ETF to buy…
A Unique Commodity ETF to Play the Sector's Rebound
For a low-risk way to play the broad commodities sector, consider the U.S. Commodity Index Fund (NYSE Arca: USCI). This commodity ETF offers an alternative to the Jefferies CRB Global Commodity ETF (NYSE Arca: CRBQ), which tracks the index bearing the same name.
USCI tracks the SummerHaven Dynamic Commodity Index, which looks for "opportunities" in commodity prices. Here's what that means…
The index buys the seven commodities that exhibit the greatest "backwardation." In other words, it buys futures contracts that sell for less than the current month's contract. Then it buys the next seven commodities with the strongest 12-month price change.
From mid-2010 until the start of 2015, USCI consistently outperformed the CRB. Then the CRB was the better option as USCI went sideways until just recently.