This post CORRECTION: This Trade Was A Big Mistake! appeared first on Daily Reckoning.
I hope you're sitting down—because this one's gonna blow your socks off. Ready?
I messed up. Big time. I totally screwed the pooch. And it cost you money…
There, I said it. But before you show up at my door with a pitchfork, we've got plenty of time to fix my mistake. And that means you've got the chance to score some fat profits from a stock I buried just a few months ago.
Let me explain…
In January I was prancing around the office in my bear suit. I was sure a couple of big tech stocks were about to get slammed. These were household names, too—not some fly-by-night jokers or flashy IPOs. I'm talking about the biggest of the big here.
The companies I was hating on were none other than Google and Amazon. Ever hear of 'em?
I wasn't just talking out of my hat though. And I didn't give these firms the back of my hand because I was in a bad mood. No sir—these charts looked spent. Both Amazon and Google got left behind after the market recovered from its October swoon. Here's the chart I showed you in January: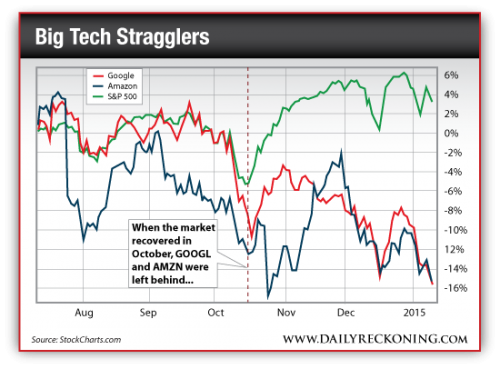 "Only someone stuck in a coma since 2013 would want to own these two has-beens," I wrote. "Let me say it now – you shouldn't even think of buying either of these falling knives right now… As far as I'm concerned, both Google and Amazon shares are toxic until their charts start showing signs of life–instead of new 52-week lows."
Yeah, yeah. I know…
And the crow I'm eating doesn't taste that good. Could use some salt, too. Since mid-January both of these stocks shot higher. We got wise to Google and grabbed it in early February (the stock is up more than 8.5% since I panned it in January). But we sat tight on Amazon. And the damn thing has gone apes**t ever since: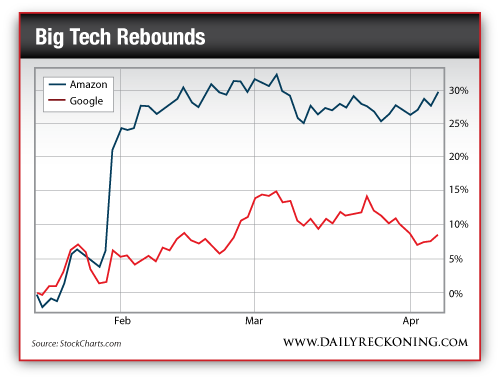 There's your updated look at Google and Amazon since mid-January. Amazon stuck it right in my face—spiking higher and maintaining nearly 30% gains during the first quarter. Thanks Mr. Bezos.
So yeah, we missed the boat on that one. But I can make it up to you. See, Amazon shares are bouncing perfectly right now. And this "buy" signal is coming at a time when consumers aren't exactly thrilled with Amazon's latest plans.
I've talked about the company's failed Fire phone and other missteps before. But the recent announcement of "Dash", Amazon's latest attempt to get you to buy more stuff, has been panned by customers and media alike.
Push a button on a gadget with some brand labelled on it and Amazon will automatically order and send that product to your house. Whatever.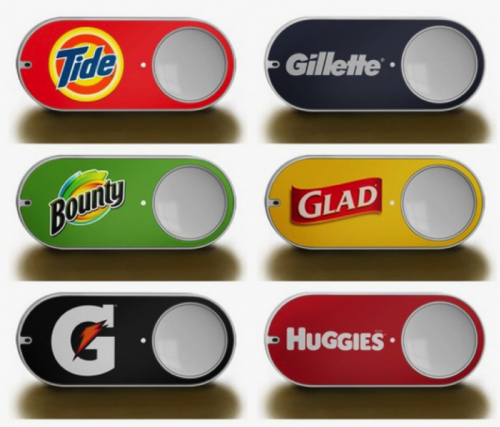 I love how everyone is jumping all over Amazon's drones and little magic ordering buttons. The crowd has turned against this stock at just the right time—giving us a chance to grab it here for some nice gains.
Missing the Amazon call is my biggest mistake this year. But there's time to fix it. Yes, I'm flip-flopping like a politician with his finger in the breeze by telling you to grab shares today. But you won't be sorry if you listen to me this time…
So put down the pitchfork and order some Amazon shares on your Dash today…
Regards,
Greg Guenthner?
for The Daily Reckoning
P.S. I was wrong before. But I'm not wrong this time. If you want to cash in on the biggest profits this market has to offer, sign up for my Rude Awakening e-letter, for FREE, right here. Stop missing out. Click here now to sign up for FREE.
The post CORRECTION: This Trade Was A Big Mistake! appeared first on Daily Reckoning.