This post Cheap Technology Beats out the Heimlich Maneuver appeared first on Daily Reckoning.
Suppose you are at a big family dinner this holiday season and Grandpa, who now tips the scales at nearly 280 pounds, starts choking on his ham. Heimlich maneuver to the rescue, right? You'll be a hero. Not unless you're 6 feet, 6 inches tall and in great shape and wrestled in college. Because you'll never get your arms far enough around Grandpa or be strong enough to force a rapid exhale by squeezing him.
This is not a bad joke. If Grandpa goes 10 minutes without oxygen, brain damage, if not death, will be certain. Choking is becoming a significant cause of death in America. A serious choking incident happens about every two hours. It is a frequent killer of people over 65 and kills one child every five days.
When a person's air passage is blocked, you've got to respond within four minutes to avoid serious consequences. The Heimlich has saved countless lives, but it isn't a surefire solution.
That got Alan Carver, a ship captain, worried about his crew at sea. When Carver was renewing his Coast Guard license, he had to take a first aid course, which covered the Heimlich maneuver. When he asked what would happen if it didn't work and no medical help was nearby, he was told the person would probably die.
Over the next five years, Carver worked to develop a simple vacuum pump called the Dechoker that could prove more reliable. A small pump with a face mask and breathing tube is placed in the victim's mouth and the pump is pulled. The vacuum created will pull out the stoppage. It can be repeated as necessary because the pump won't push air back into the body.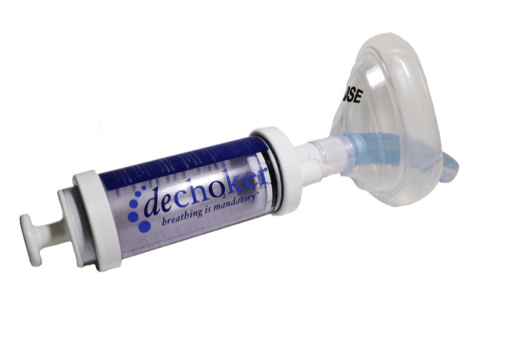 The Dechoker is not only easy to use, but you can use it on yourself if you're alone and struggling. It was approved as a Class 1 medical device by the FDA earlier this year for use on people who are at least 3 years old.
The Dechoker is inexpensive — $149 — but it's not the sort of thing you can pick up at your local pharmacy, and even Amazon doesn't carry it. You'll have to go directly to Alan Carver's new company at this address.
Chances are you'll never use it. But if you do, it could save your life or that of someone you love.
To your health and wealth,

Stephen Petranek
The post Cheap Technology Beats out the Heimlich Maneuver appeared first on Daily Reckoning.