Rick Pendergraft: Looking at the results of my nightly scans last evening, I couldn't help but notice that an inordinate number of exchange-traded funds appeared on the bullish list. Most of them either represented a foreign market or a particular global region.
One in particular caught my attention, but it wasn't the bullish signal on the daily chart that made me sit up and take notice of the iShares MSCI EAFE Index Fund (NYSEArca: EFA). EAFE stands for Europe, Australasia and Far East. Essentially the index represents most of the developed markets outside the United States and Canada.
Looking at the daily chart of the EFA fund, the first few things I noticed were the bullish crossover of the daily stochastic readings and the fact that the fund was dancing around its 50-day moving average.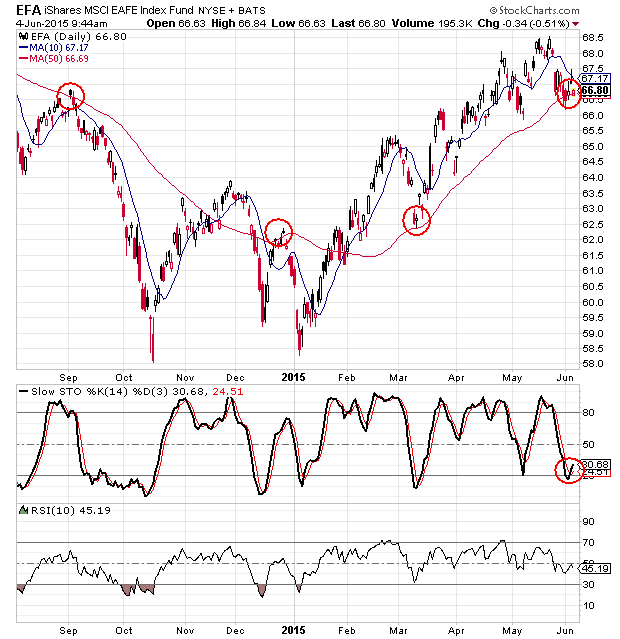 As you can from the red circles on the daily chart, the 50-day moving average has been important for this global ETF, as it acted as resistance last September and December and then it acted as support in March.
With the stock dancing around the moving average once again and the bullish crossover from the stochastic readings, how can I possibly be seeing a potential correction? Easily, because the weekly chart has a couple of items that got my attention as well.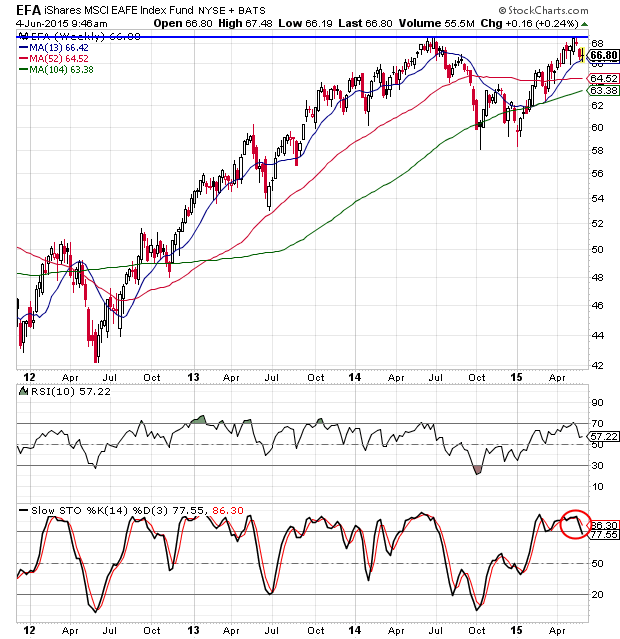 Approximately one year ago, the EFA was hovering up around the $68 level and both the 10-week RSI and the weekly stochastic readings were up in overbought territory.