Tony Daltorio:  There is one clear takeaway from the Federal Reserve's decision to not raise interest rates: What happens in China does not stay in China.
It is unlikely that Fed Chairwoman Janet Yellen would have postponed an interest rate hike just based on the direct China-U.S. trade relationship. But China trades extensively with Mexico, and particularly with resource-rich Canada.
And if our neighbors' economies are hurting, the U.S. will be affected. Mexico accounts for 15% of U.S. exports and Canada accounts for nearly 20%.
As Yellen noted during the press conference following the Fed's September meeting, Canada is "an important trading partner of ours that has been negatively affected by declining commodity prices, declining energy prices."
Woe Is Canada
In fact, Canada is in its first recession since 2008. In the first quarter of 2015, the economy shrank 0.8%. The second-quarter gross domestic product shrank by 0.5%. A recession is defined as two consecutive quarters of negative economic growth.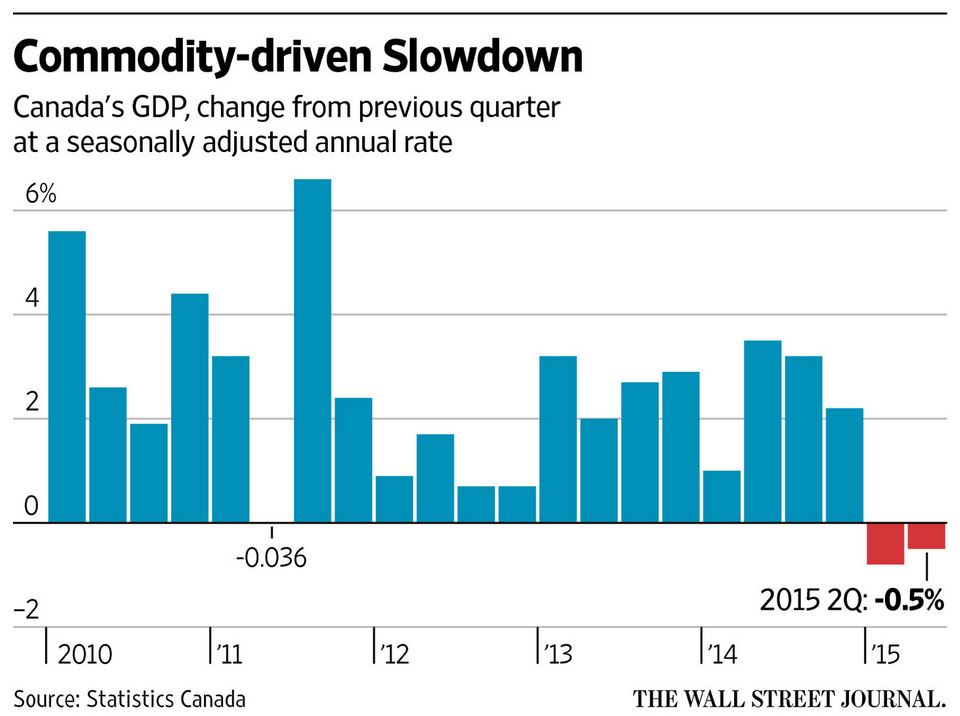 Source: The Wall Street Journal
The Bank of Canada cut interest rates twice this year in an effort to stimulate the economy. Canada's key rate now stands at 0.5%.
But that only accelerated the downward move of the Canadian dollar. Nicknamed the loonie, it's down 14% so far this year. More importantly, the loonie is now at an 11-year low versus the U.S. dollar. Its travails can easily be seen by a glance at the performance of the CurrencyShares Canadian Dollar Trust ETF (NYSEArca: FXC).
FXC Year-to-Date Performance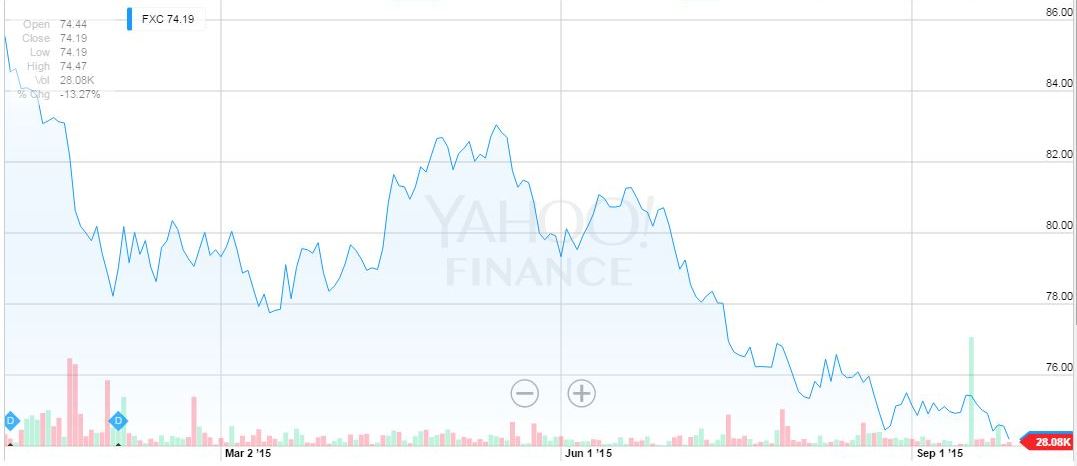 Source: Yahoo Finance
And thanks to the continuing drop in commodity prices, Canada's economy is still sputtering. That's because energy and mining make up about 17% of the country's economy.
One needs to look no further than the oil-rich province of Alberta. It is projecting an all-time high budget deficit of CA$5.9 billion. That could grow to CA$6.5 billion if oil prices remain low.
Alberta is emblematic of Canada's dilemma – oil is its largest export. In March, Bank of Canada Governor Stephen Poloz described the oil price as "atrocious." With prices even lower, I wonder what adjective he would use now.
Or Is It Go Canada?
However, not everything is bad. Other provinces including Ontario, Quebec and British Columbia are doing better. That's what makes analyzing Canada's economy tough right now. The resources sector is plunging, but other sectors seem to be doing well.
In fact, Bank of Montreal's (NYSE: BMO) chief economist, Douglas Porter, in a recent report referred to it as the "Best. Recession. Ever."
And it's easy to see where he is coming from. The jobless rate, for example, has jumped to near 7%. Yet, so far in 2015, nearly 175,000 new full-time jobs were added. Most economies in a recession don't do that.
Exports are tepid. Consumer confidence readings are at their lowest level since 2013. Yet auto sales are still strong, and so are new home sales, thanks to low interest rates. But worries are creeping in that Canada is seeing a housing bubble, a la the U.S. in 2008.
The very mixed economy is leading to lots of back and forth among both Canada's economists and politicians. The country is electing a new prime minister on Oct. 19.
What It All Means
But what does all this mean for any U.S. investor looking to invest in Canada, eh?