This post Buy Strength – or Get Crushed! appeared first on Daily Reckoning.
Buy strength. It's so important I'm power-drilling it into your noggin today. Don't worry– it won't hurt that bad. Ready?
Look, it couldn't get any simpler. Buy strength. If you've got a thing for the underdog go watch Rudy. But if you want to make money in this market you've got to buy strength. And today you're going to see how…
Yesterday we showed you how a handful of market-beating stocks and industries are pulling the S&P higher— virtually by themselves. That's because the majority of S&P stocks are trending lower. And the only way to stay ahead of the game is by sticking to the strongest names in the index.
Today we're turning our attention to the Dow Jones Industrials. They're supposedly the 30 biggest movers and shakers on the Street—the steady-eddies of the investing game. When you want safety and stability you head for the Dow, right? I'm sure you realize that's a leading question…
You guessed it. Not all these stalwarts are pulling their weight. And so far this year some of these Dow names have been dragging the big average down. Take a look: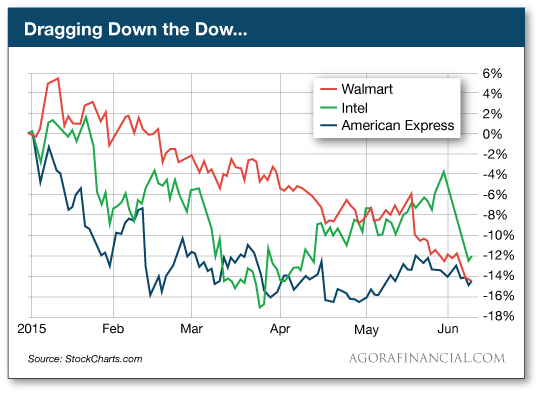 Old reliable Walmart is leading the pack lower, followed by American Express and Intel. These three former anchors are down double-digits in 2015—while the Dow Jones Industrial Average itself is hovering around breakeven on the year.
So what's the deal? Well, Walmart is doing a bang-up job missing earnings estimates. And the company just anointed another Walton as chairman—which apparently ruffled some feathers. Then there's American Express. The credit giant is losing ground in the credit card rewards race to competitors like Chase. Finally, Intel is off the pace thanks to falling notebook computer sales across the board.
The big question is: Should you buy these Dow-killers now?
Of course not. Fortunately you can add some fresh legs to your portfolio instead…
In fact, four Dow outperformers are up double digits this year. And since I'm feeling generous this morning I'll save you a click and give them to you: Pfizer, Apple, UnitedHealth, and Disney.
Any one of these stocks is a better pick than the trio of laggards I showed you earlier.
Regards,
Greg Guenthner
for The Daily Reckoning
P.S. Only the strong survive. If you want to cash in on the biggest profits this market has to offer, sign up for my Rude Awakening e-letter, for FREE, right here. Stop missing out. Click here now to sign up for FREE.
The post Buy Strength – or Get Crushed! appeared first on Daily Reckoning.