Chris Ciovacco: A referendum is being held on Thursday, June 23, to decide whether Britain should leave or remain in the European Union (EU).
Polls currently indicate a bias for the leave scenario.
However, Great Britain's wagering markets continue to show a bias toward the stay scenario.
From CNBC:
"On Friday, a poll for the Independent newspaper gave a massive 10-point lead to the British voting public that want to leave the European Union. Over the weekend, another poll for The Times newspaper gave leave vote a small lead. A Financial Times Poll of Polls gives leave a lead as well — 46 percent, versus stay at 44 percent. Furthermore, while Great Britain's vibrant wagering markets have shown the momentum build on the leave side, they still show a significant preference for remain. The latest odds on Monday — 4-7 for stay vs. 7-4 for leave — imply a Brexit probability of 36 percent."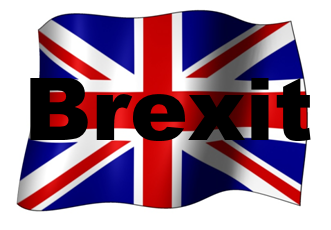 Pros And Cons
The excerpts below from the BBC's "all you need to know" provide some insight into the case for leaving and the case for staying in the EU:
Why do they want the UK to leave?

They believe Britain is being held back by the EU, which they say imposes too many rules on business and charges billions of pounds a year in membership fees for little in return. They also want Britain to take back full control of its borders and reduce the number of people coming here to live and/or work. One of the main principles of EU membership is "free movement", which means you don't need to get a visa to go and live in another EU country. They also object to the idea of "ever closer union" and what they see as moves towards the creation of a "United States of Europe".

Why do they want the UK to stay?

Those campaigning for Britain to stay in the EU say it gets a big boost from membership – it makes selling things to other EU countries easier and, they argue, the flow of immigrants, most of whom are young and keen to work, fuels economic growth and helps pay for public services. They also believe Britain's status in the world would be damaged by leaving and that we are more secure as part of the 28 nation club, rather than going it alone.
Forecasts/Polls Have Been Shifting
Since polls have been shifting in favor of the leave scenario, it may take time for forecasting models to settle down.
The graphic shown below comes from Matt Singh's Number Cruncher Politics.
Mr. Singh has stated this referendum will be the "biggest challenge" of a forecaster's career, meaning markets will most likely be dealing with uncertainty until the June 23 votes are counted.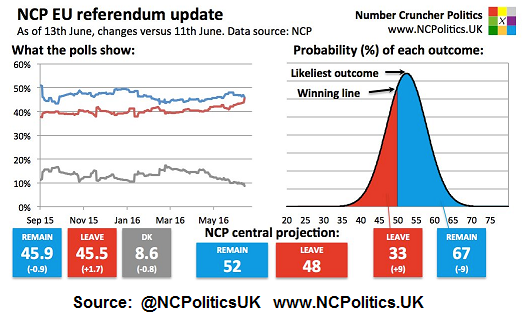 Market's Don't Like Uncertainty
All things being equal, financial markets tend to favor certainty over uncertainty.
A vote to leave would raise numerous questions about the future of the EU.
Powered by WPeMatico