Bob Ciura:  Aerospace giant Boeing (NYSE:BA) reported better-than-expected quarterly earnings Wednesday and the stock flew nearly 3% higher when the market opened. Boeing stock has strongly outperformed the market this year. The stock is up approximately 7% year-to-date, while the S&P 500 Index is up about 1% in the same time.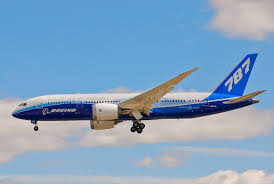 Boeing is benefiting hugely from a strong tailwind, in the form of rising demand for commercial aircraft. This is particularly true in the emerging markets such as China and India. Boeing has a massive backlog of plane orders, which should continue to fuel its growth for many years.
Here's how the company managed a big earnings beat last quarter, and why it's blue skies up ahead for Boeing.
Boeing Earnings Fly Above Estimates
Boeing reported earnings of $2.47 per share, easily topping analyst expectations of $2.22 per share. Revenue came in at $25.85 billion last quarter, which also exceeding analysts' forecasts for $24.74 billion. For the full year, Boeing expects earnings between $7.95 per share-$8.15 per share, with revenue clocking in at $95 billion-$97 billion.
Boeing ended the quarter in strong financial position. The company has $9 billion in debt, and $9.9 billion in cash and marketable securities. As a result, it has a strong balance sheet.
Going forward, Boeing should enjoy many years of growth ahead of it, thanks to its huge backlog of future orders. Boeing ended the quarter with a $485 billion backlog for nearly 5,700 commercial airplane orders.
Boeing's commercial business has outperformed its defense business throughout the year. Over the first three quarters of 2015, revenue in commercial airplanes is up 16% to $49 billion. In the same period, revenue from Boeing's smaller defense business is down 3%, to $22 billion.
Boeing has positioned itself as a commercial aircraft company first, and a defense company second. This has proven to be a very smart management strategy.
Commercial Aircraft Boom Continues
One of the biggest advantages that Boeing has over its competitors in the aerospace and defense industry is its focus on commercial aircraft. Whereas many other companies focus on defense, and as a result are vulnerable to government spending cuts on defense, the commercial market is booming.
For example, Lockheed Martin (NYSE: LMT) and General Dynamics (NYSE: GD) generate 79% and 75% of their respective revenue from defense budgets and government defense spending. Meanwhile, Boeing derives two-thirds of its business from commercial markets.
This has helped Boeing, as the commercial aircraft market is thriving, due to increased demand for travel in the Middle East and Asia-Pacific regions. In fact, the commercial airline order backlog for planes is at a record high. Deliveries of commercial aircraft rose 3% last year, representing the fourth consecutive record year.