Rick Pendergraft:  During the first seven months of the year, the biotech sector was among the best performing sectors in the market. The iShares Nasdaq Biotechnology ETF (NASDAQ:IBB) gained 31.22% from the beginning of the year through the close on July 20.
Since that time the sector has been moving lower and the biotech ETF has lost 14.45%. It had been down as much as 20%, not including the questionable pricing during the broad market selloff on the morning of Aug. 24.
What is concerning for the IBB fund is that it is now below the 50-day moving average and recently hit the trend line, which acted as resistance.
If we look at the daily chart for the last nine months, we see that the 50-day moving average acted as support on a number of occasions as the price of the biotech ETF rose.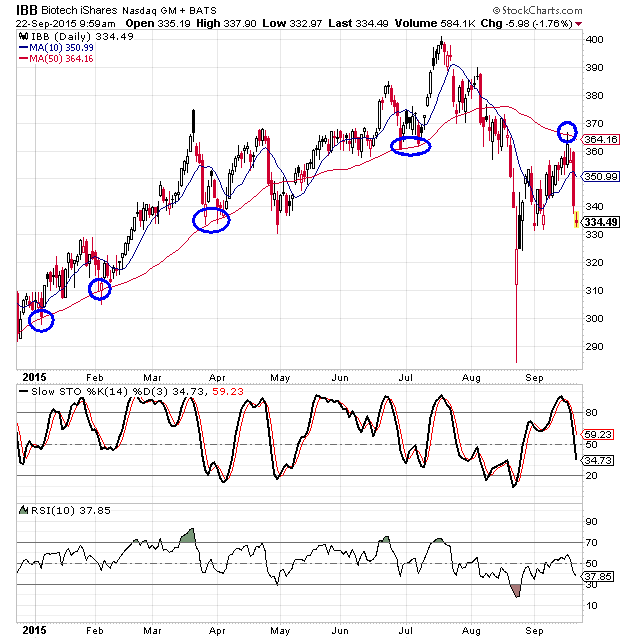 In addition to the issues on the daily chart, the weekly chart presents a couple of other drivers for a bearish trade.
The fund is currently below its 52-week moving average, which is the second time in the last five weeks the fund has fallen below the trend line.
In the previous 3 ½ years, the fund had only moved below the 52-week moving average during one week, and in that instance it did not close the week below the trend line.
In the last two years, the IBB had hardly spent any time below the 13-week moving average and now it has been below that trend line for eight consecutive weeks.
If the biotech ETF stays below the 13-week moving average for much longer, we will likely see a bearish crossover between the two moving averages.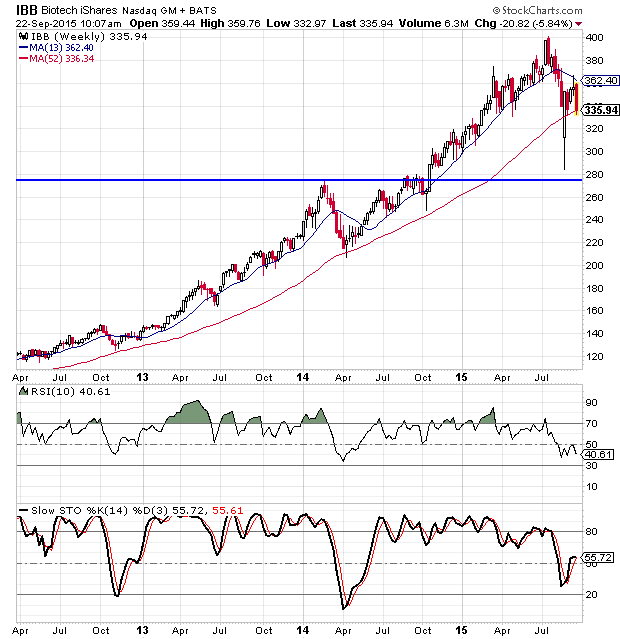 One thing that has hurt the biotech sector over the last two months is the fact that it was one of the most loved sectors.
When the sentiment gets too bullish, the stocks and the ETFs are apt to see more selling during an overall market pullback, simply because there are more investors in the stocks and therefore there are more potential sellers.
Looking at the top 10 holdings in the IBB, only one of the 10 has a short interest ratio over 4.0. Collectively, the top 10 holdings have 145 "buy" ratings, compared to 60 "hold" ratings and only two "sell" ratings.
This is a perfect example of overly optimistic sentiment, and this is after the sector has struggled for two months.