Gold and silver both had a strong performance in 2020, with the gold price in US dollars rising 25.12% during the year, and the silver price in US dollars rising an impressive 47.82%. These returns are based on opening prices of gold and silver on 1 January 2020 of $1517.3 and $17.86, respectively, and closing prices on 31 December 2020, of $1898.50 and $26.40, respectively.
Gold's Continued Bull Run
With a 25.12% return in 2020, gold continues the strong run it recorded in 2019 when the gold price rose by over 18%. US dollar gold in 2020 also had its best year since 2010, a year in which it rose by 29.5%.
The 2020 low for the US dollar gold price was seen in the last week of March when the price dipped briefly below $1500 on the back of stress in the London gold market and the widening of spreads between the London spot price and COMEX futures prices. The 2020 high for the US gold price during the year was reached on 7 August, when the price touched US$ 2067.60 per troy ounce, after climbing consistently from the last week of March. A lot of that surge was during a two-month period from early June to the August high, when the gold price rose by $370 between 7 June and 7 August.
US dollar gold generally ebbed from that August high until the end of November, when it traded at $1767 on 30 November, before resuming its climb throughout December to end 2020 in the $1898 range.
The gold price also performed strongly in other currencies during 2020, for example, rising by 22.89% in Singapore dollars, 21.35% in British pounds, 22.63% in Canadian dollars, 14.85% in Euro and 13.93% in Aussie dollars.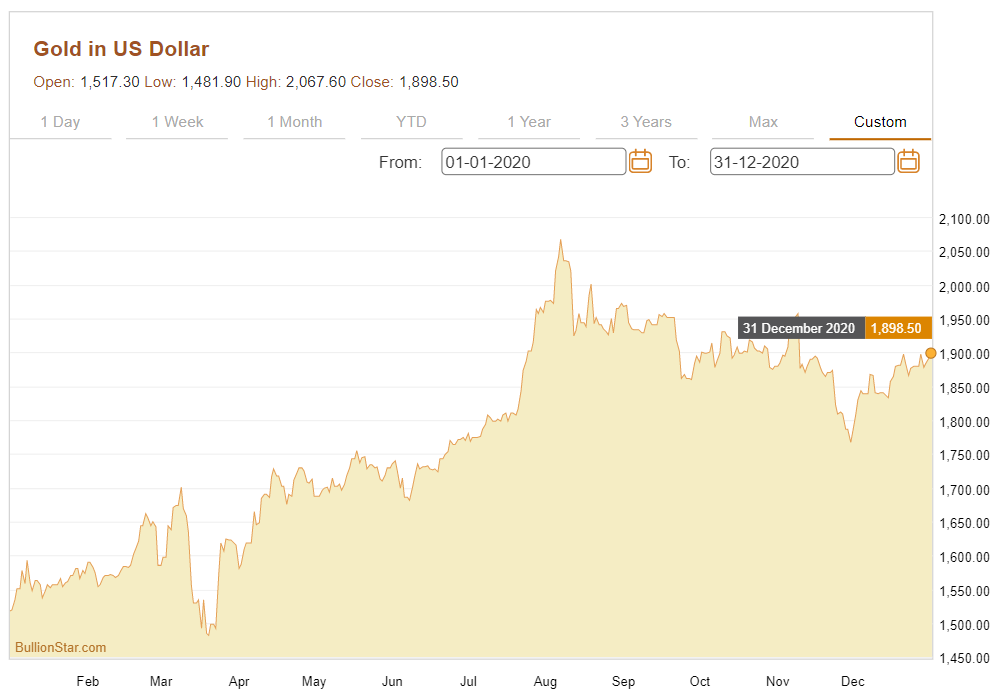 Stellar Silver
Turning to silver, the 47.82% rise in US dollar silver price in 2020
also gives silver its best year since 2010, when it rose by 83%. Interestingly, silver also rose by a similar 47% in 2009, so could 2020 be presaging a very strong silver price showing for 2021?
Continue reading at http://www.usfunds.com/investor-library/investor-alert/2020-golds-best-year-in-a-decade-ethereum-beat-bitcoin-inflation-higher-than-reported/