Previous Guests
Click here to listen to previous episodes.
About Chen Lin
Author "What is Chen Buying? What is Chen Selling?" Chen grew $5,400 to $2.3 million in 10 years. Learn More
Are The World's Greatest Value Investors Bearish Right Now?
From Chris Ciovacco: If you want to know what someone really thinks about the stock market, look at their recent portfolio transactions. What can we learn from recent moves made by two of the world's most respected value investors?
Buffett Loaded Up After U.S. Election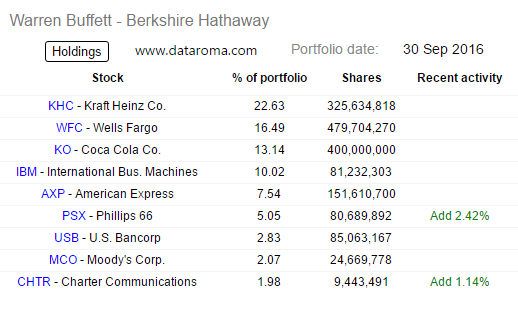 With a focus on intrinsic value, based on future earnings potential, Warren Buffett has compiled one of the best track records in investing history. Buffett's portfolio includes common stocks, such as Wells Fargo (WFC), Coca Cola (KO), International Business Machines (IBM), Apple (AAPL), and General Motors (GM). Therefore, if Buffett thought the stock market was currently significantly overvalued, we would expect him to be a net-seller in recent months. From Reuters:
Buffett revealed that he has bought $12 billion of stock for his company Berkshire Hathaway Inc. since the Republican Donald Trump beat Democrat Hillary Clinton in the Nov. 8 U.S. presidential election. In an interview with talk show host Charlie Rose that aired on Friday night, Buffett suggested that Berkshire's post-election stock purchases overall were even higher, reflecting stocks that his deputies Todd Combs and Ted Weschler bought. "We've, net, bought $12 billion of common stocks since the election," Buffett said. "The guys that work with me, the two fellows, they probably bought a little bit or sold a little bit too." The speed with which Berkshire is buying stocks is unusual.
Do The Charts Agree With Warren Buffett?
This week's stock market video asks three common sense questions about the long-term sustainability of the stock market rally. The answers are based on facts in hand, rather than opinions or forecasts.
After you click play, use the button in the lower-right corner of the video player to view in full-screen mode. Hit Esc to exit full-screen mode.


Is Bill Miller Concerned About Stocks?
Bill Miller's fund beat the S&P 500 for 15 consecutive years from 1991 through 2005. Like Buffett, Miller unquestionably understands how to value common stocks. Has Miller been unloading shares in recent months? From a February 2 CNBC article:
"The stock market is not terribly expensive, and the market has a tailwind," Miller said. "As long as the economy is growing and earnings are growing, the market is well underpinned." Miller said he was fully invested in the stock market before the election and remains so.
How Helpful Are Valuations?
Reviewing PE ratios on the chart below in isolation, it would be easy to draw a conclusion that runs counter to the statements from Warren Buffett and Bill Miller above.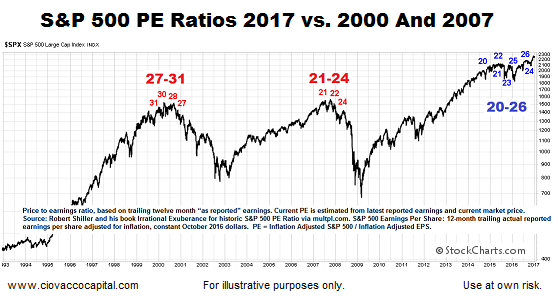 A detailed January 2017 analysis expands the sample size allowing us to examine PE ratios from a more balanced and broader perspective; the results may surprise you. It is important to note, Buffett and Miller have a long-term focus; their views tell us little about the market's short-term outlook.
The iShares S&P 500 Index ETF (NYSE:IVV) was trading at $230.12 per share on Monday afternoon, down $0.67 (-0.29%). Year-to-date, IVV has gained 2.28%, versus a 2.33% rise in the benchmark S&P 500 index during the same period.
IVV currently has an ETF Daily News SMART Grade of A (Strong Buy), and is ranked #2 of 109 ETFs in the Large Cap Blend ETFs category.
---
This article is brought to you courtesy of Ciovacco Capital.
You are viewing an abbreviated republication of ETF Daily News content. You can find full ETF Daily News articles on (www.etfdailynews.com)
Powered by WPeMatico