Previous Guests
Click here to listen to previous episodes.
About Chen Lin
Author "What is Chen Buying? What is Chen Selling?" Chen grew $5,400 to $2.3 million in 10 years. Learn More
Analyst: Stocks Look Nothing But Bullish Right Now
From Chris Ciovacco: Money manager Chris Ciovacco uncovers some rare bullish signals that the S&P 500 is exhibiting right now, and concludes that there's little reason to be bearish on stocks right now.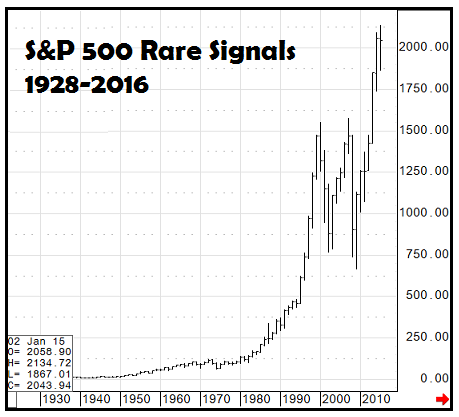 Another Piece Of Long-Term Evidence
In recent months, several pieces of longer-term bullish evidence have surfaced, including a signal that has only occurred ten other times in the last 35 years, a clear and factual message about stocks, a reliable contrarian indicator, weekly charts (1982-2016) painting a bullish picture, and a rare reading from a trend-strength indicator.
Signals Assist With Probabilities
No indicator, signal, or piece of evidence can predict a highly uncertain future; they simply provide some insight into the probability of good things happening relative to the probability of bad things happening, which implies bad things are always on the list of possible market outcomes.
Rare Secular Stock Market Signal
This week's stock market video focuses on a very rare secular signal that has only occurred one other time since 1928.
After you click play, use the button in the lower-right corner of the video player to view in full-screen mode. Hit Esc to exit full-screen mode.


Small Sample Size
It should be noted the video above covers events with a very small sample size, meaning relying on this evidence in isolation is probably not wise. Therefore, our focus, as always, is on the weight of the evidence.
No Forecasting
Our purpose is not to forecast, but rather to understand the facts we have in hand. If the facts change in a bearish manner, which may very well be the case, flexibility will prove to be valuable. It should be noted the first link in this article goes to evidence that was presented on August 20; since then, despite many dire forecasts on Wall Street, the S&P 500 has gained over 4%.
The SPDR S&P 500 ETF Trust (NYSE:SPY) closed at $225.71 per share on Friday, up $0.33 (+0.15%). Year-to-date, SPY has gained 10.72%.
SPY currently has an ETF Daily News SMART Grade of A (Strong Buy), and is ranked #1 of 108 ETFs in the Large Cap Blend ETFs category.
This article is brought to you courtesy of Ciovacco Capital.
You are viewing an abbreviated republication of ETF Daily News content. You can find full ETF Daily News articles on (www.etfdailynews.com)
Powered by WPeMatico